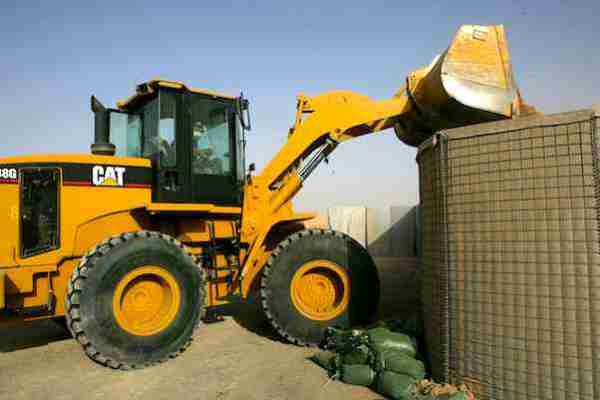 Caterpillar Inc. is a manufacturer of heavy equipment and engines. Some of its products are bulldozers, excavators, wheel loaders, diesel engines and trucks. The company also offers services, such as financing and insurance, as well as maintenance and training services. Thus, Caterpillar has a moderate degree of diversification, with business in the heavy equipment industry, engines industry and financial services industry. Headquartered in Illinois, Caterpillar products and services are available worldwide. Founded in California in 1925, the company has grown to become the world's leading provider of heavy equipment. As of 2015, the firm has more than 110,000 employees.
This report analyzes Caterpillar Inc.'s vision statement and mission statement, and provides a competitive analysis and external assessment of the company using Porter's Five Forces model. Caterpillar's intensive strategy, market penetration, market development and product development are also presented, along with a SWOT analysis and strategic recommendation.
Caterpillar Inc.'s Vision Statement
Caterpillar's vision statement is "Be the global leader in customer value." The firm aims at being a global leader in the industry through high quality products that satisfy customers. The company also effectively develops its business value through marketing and its distribution network around the world. Thus, Caterpillar follows this vision statement and continues to improve customer value.
Caterpillar's vision statement is good, based on conventional guidelines on developing vision statements. The firm's vision statement is short and simple, which makes it easy to understand. The term global leader is ambitious enough to push the firm to improve. However, this vision statement has issues in terms of specificity to Caterpillar's business. The statement does not contain enough information to relate it to the kind of business or industry of Caterpillar.
Caterpillar Inc.'s Mission Statement
Caterpillar Inc.'s mission statement is a combination of four missions that inform strategies and decisions. In summary form, the company's mission statement is "To provide the best value to customers, grow a profitable business, develop and reward people, and encourage social responsibility." Thus, Caterpillar's mission statement is four-fold.
The details of Caterpillar's mission statement's four points are as follows:
To provide the best value to customers. Caterpillar will be the leader in providing the best value in machines, engines and support services for customers dedicated to building the world's infrastructure and developing and transporting its resources. We provide the best value to customers.
To grow a profitable business. Caterpillar people will increase shareholder value by aggressively pursuing growth and profit opportunities that leverage our engineering, manufacturing, distribution, information management, and financial services expertise. We grow profitably.
To develop and reward people. Caterpillar will provide its worldwide workforce with an environment that stimulates diversity, innovation, teamwork, continuous learning and improvement and rewards individual performance. We develop and reward people.
To encourage social responsibility. Caterpillar is dedicated to improving the quality of life while sustaining the quality of our earth. We encourage social responsibility.
In providing value to customers, Caterpillar must provide high quality products and services. The company follows this point in the mission statement because its products are known for high durability and quality. In growing a profitable business, the company must continue generating profits. Caterpillar follows this component of the mission statement because the business continues to grow internationally while keeping financial soundness. In developing and rewarding people, the business must benefit employees and business partners. Caterpillar follows this point of the mission statement through various programs for employee development and programs that support business partners. In encouraging social responsibility, the firm must ensure sustainability and address the needs of the community and environment. Caterpillar follows this component of the mission statement through sustainability programs.
Caterpillar Inc. External Assessment (Porter's Five Forces Competitive Analysis)
Threat of new entrants: There is a low threat of new entrants in the industry because of the very high capital required to establish a new firm that produces heavy equipment. Small businesses could enter the industry and provide heavy machinery through small-scale production. However, these small new entrants have minimal effect on firms like Caterpillar.
Competitive rivalry: Caterpillar faces high competition in the industry. In heavy equipment manufacturing, there are significant competitors from countries like Japan and the Netherlands. These competitors are also major players in the global market. They have engineering expertise comparable to that of Caterpillar. In financial services, competition is even higher. There are many small, medium and large financial service companies that directly compete with firms like Caterpillar.
Threat of substitutes: The threat of substitution is low. For instance, crude tools can be used as substitutes to heavy equipment from Caterpillar. However, the current trend is toward mechanization and automation. Thus, customers are unlikely to shift away from using heavy equipment like those from Caterpillar.
Bargaining power of buyers: Caterpillar's buyers include groups and organizations. For example, construction firms and government agencies purchase heavy trucks and machines from firms like Caterpillar. The bargaining power of buyers is low because of limited options. Only a few major companies offer products with high quality and durability compared to those of Caterpillar.
Bargaining power of suppliers: Caterpillar's suppliers are companies that provide raw materials and components for its products. The company uses various suppliers for its production because it has different manufacturing locations around the world. No single supplier can exert significant pressure on Caterpillar's business. Thus, the bargaining power of suppliers is low.
Caterpillar Inc.'s Intensive Strategy
Market Penetration and Market Development. Caterpillar's uses the intensive growth strategies of market penetration and market development. This combination is based on the variety of markets around the world. Different markets have different characteristics that warrant either market penetration or market development as an intensive strategy to grow Caterpillar's business.
Market penetration is the main intensive growth strategy of Caterpillar. In most of the major markets around the world, the firm already has a significant presence. In these markets, the company focuses on growing sales from the current population of customers. Caterpillar uses the intensive strategy of market development in some markets. In developing countries in Asia and Africa, the company focuses on establishing significant presence through market development. Caterpillar uses its current distributors and new distributors for these two intensive strategies.
Product Development. Caterpillar does not rely much on product development as an intensive strategy for growth. The company mainly focuses on improving existing products. The firm rarely introduces an entirely new product. Instead, existing Caterpillar products are modified to provide new features and improve customer value.
Caterpillar Inc. SWOT Analysis
Strengths: Caterpillar's strengths include its strong brand image, large-scale assets, and its strong global distribution network. The company's strong brand image is based on the fact that the Caterpillar name is well-known around the world for quality. The company also has large-scale assets that can be used to support further business growth and development. In addition, the firm has a large global network of distributors.
Weaknesses: Caterpillar's weaknesses include its low rate of innovation and limited connections in emerging markets. The low rate of innovation is typical in the heavy equipment and financial services industries. However, this weakness makes Caterpillar vulnerable to competitors that aggressively invest in technological innovation. Limited business connections in emerging markets prevent the firm from maximizing revenues. For example, while it already operates in China, Caterpillar still lacks an extensive network of distributors in the Chinese market.
Opportunities: Caterpillar's opportunities include increasing its revenues through growth and expansion, and increasing competitive advantage through innovation. The company can grow and expand in emerging and developing markets, especially in Asia. The business can exploit the construction boom in these markets. Caterpillar can innovate to develop better or new products to capture more of the global market.
Threats: The threats to Caterpillar's business are imitation and aggressive competition. Imitation has become an issue in the advent of local or regional firms that simply copy the original designs of global firms. For example, some Chinese manufacturers could easily use Caterpillar designs with some modifications to produce products that compete against Caterpillar. On the other hand, aggressive competition could come in the form of rapid technological advancement of major competitors. For example, Japanese competitors could integrate robotics in their products to make them more competitive than Caterpillar's.
Recommendations for Caterpillar
In the next five years of operations, Caterpillar can improve performance through differentiation. The company must increase its investment in research and development to create unique products. At present, the heavy equipment, engines and financial services of Caterpillar are very similar to the ones available from competitors. To increase competitiveness, the firm must invest more in developing novel products.
Caterpillar can also improve its financial performance by growing its distribution network in the next five years of operation. The firm must focus on developing markets because these markets have high economic growth rates. For example, the company can increase the number of Caterpillar distributors in China.
References
Dausch, M., & Hsu, C. (2005). Engineering service products: the case of mass-customising service agreements for heavy equipment industry. International Journal of Services Technology and Management, 7(1), 32-51.
Dupin, C. (2014). Caterpillar on the road: with US infrastructure headed south, heavy equipment shipper sends 40 percent of cargo north. American shipper (Jacksonville, Fla.: 1991), 56(2).
Gillet, J., Fink, R., & Bevington, N. (2010). How Caterpillar uses 6 Sigma to execute strategy. Strategic Finance, 91, 25.
Shunko, M., Yunes, T., Fenu, G., Scheller-Wolf, A. A., Tardiff, V., & Tayur, S. R. (2014). Restructuring the Backhoe Loader Product Line at Caterpillar: A New Lane Strategy. SSRN 2493453.