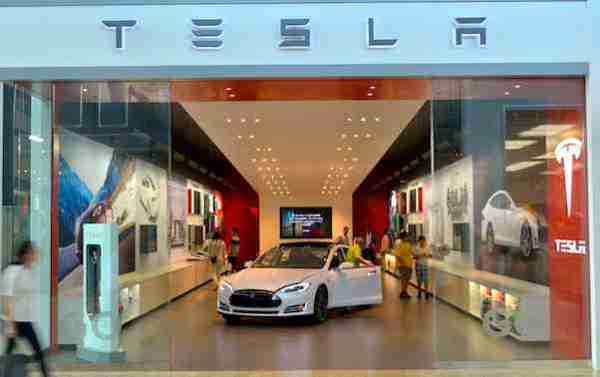 Tesla Motors, Inc. uses a marketing mix that stands out in the automotive industry. The marketing mix or 4Ps (Product, Place, Promotion & Price) is the set of strategies that a company uses for its marketing plan. Tesla maintains significant control in all components of its marketing mix. Such level of control maximizes the company's effectiveness in reaching its target customers and optimizing profits. As a major producer of electric automobiles in the United States and other countries, Tesla continues to use its marketing mix to support market penetration and potential expansion in overseas locations.
In using its marketing mix or 4Ps, Tesla Motors, Inc. grows its brand popularity along with increased market penetration. The place and promotion components especially make Tesla's marketing mix unusual in the automotive industry.
Tesla's Products (Product Mix)
This element of the marketing mix identifies the organization's outputs or products sold to target customers. Profitable products provide value that customers pay for. As an automotive business, Tesla has the following products:
Automobiles
Electric vehicle powertrain components
Batteries
Tesla is known for its electric vehicles. For example, the company's Model S sedan is one of the world's most popular electric cars. However, aside from cars, the firm also manufactures powertrain components for electric automobiles that other auto firms produce, thereby satisfying its mission and vision in facilitating the world's movement toward electric vehicles and sustainable energy (Read: Tesla's Mission & Vision Statements). Moreover, the company offers batteries for home and industrial use. This element of Tesla's marketing mix shows focus on electric vehicles, as the company currently seeks to grow and expand its business. Tesla's generic and intensive growth strategies support profitability in this element of the marketing mix.
Place/Distribution in Tesla's Marketing Mix
The locations or venues used to reach customers are considered in this element of the marketing mix. An organization distributes or sells its products through such venues. In the case of Tesla, the following places are used:
Official Company Website
Company-owned Stores and Galleries
Company-owned Service Centers
Customers can check Tesla's automobiles at company-owned stores and galleries located in malls and other areas. However, customers need to use the company's website to complete sales transactions. Also, the company owns its service centers, where customers can access repair and maintenance services, and where the firm can render services as part of its sales contracts. The place element of Tesla's marketing mix highlights significant corporate control on the sale and distribution of products.
Tesla Motors, Inc.'s Promotion (Promotional Mix)
In this element of the marketing mix, marketing communications strategies and tactics are considered. Tesla Motors, Inc.'s promotional mix has the following components, arranged according to significance in the automotive business:
Viral marketing (most significant)
Personal selling
Public relations
Sales promotions
Direct marketing
Tesla's marketing mix is unusual in the automotive industry, partly because of its dependence on viral marketing. Viral marketing has the biggest contribution in the company's ability to communicate with customers. For example, the company's release of the Tesla Model S for Kids is largely promoted through viral videos on social media, thereby also promoting the company's product mix. Personal selling is implemented through sales personnel at company-owned stores and galleries. In addition, Tesla uses public relations to boost its popularity. For example, the company's inclusion of its patents in the open-source movement is a testament to the company's commitment to driving the world's transition toward sustainable energy. Such programs improve customers' perception about the organization and its brand. On the other hand, sales promotions involve discounts for certain items and the company's customer referral program. Occasionally, the company uses direct marketing, such as selling powertrain components and batteries to other businesses. In this element of the marketing mix, viral marketing significantly determines Tesla's effectiveness in promoting its products and brand.
Tesla's Prices and Pricing Strategy
Price levels and related strategies are covered in this element of the marketing mix. Tesla Motors, Inc. uses a premium pricing strategy. This strategy involves using high price points on the basis of uniqueness or high value attributed to the company's products. For example, customers are willing to pay relatively high prices for Tesla automobiles, which are viewed advanced in terms of technology and ecology. Thus, innovation and product design are significant factors in successfully using this pricing strategy. Premium pricing agrees with Tesla's generic strategy of differentiation, which emphasizes uniqueness of products.
References
Goi, C. L. (2009). A review of marketing mix: 4Ps or more? International Journal of Marketing Studies, 1(1), 2.
Hanssens, D. M., Pauwels, K. H., Srinivasan, S., Vanhuele, M., & Yildirim, G. (2014). Consumer attitude metrics for guiding marketing mix decisions. Marketing Science, 33(4), 534-550.
Rahmani, K., Emamisaleh, K., & Yadegari, R. (2015). Quality Function Deployment and New Product Development with a focus on Marketing Mix 4P model. Asian Journal of Research in Marketing, 4(2), 98-108.