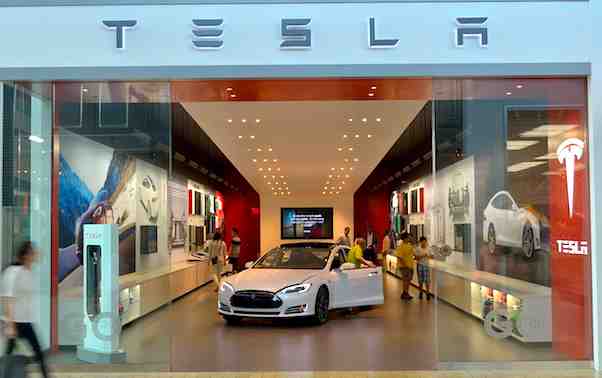 Tesla, Inc. (formerly Tesla Motors, Inc.) uses a marketing mix that stands out in the automotive industry. The marketing mix or 4Ps (Product, Place, Promotion & Price) is the set of strategies and tactics that the company uses for its marketing plan. Tesla maintains significant managerial control in all components of its marketing mix. Such a level of control maximizes the company's effectiveness in reaching its target customers and optimizing profits. As a major producer of electric automobiles in the United States and other countries, the corporation continues to use its marketing mix to support market penetration and potential expansion in overseas locations. Market penetration is included in Tesla's generic strategy for competitive advantage and intensive strategies for growth. The company's 4P supports competitiveness against other automakers, such as Toyota, General Motors, Ford, Honda, Volkswagen, and BMW. These competitors also employ strategic 4Ps to address the approach that Tesla Inc. uses in the automotive market.
In using its marketing mix or 4P, Tesla, Inc. grows its brand popularity along with increased market penetration. Elon Musk's popularity adds to promotional effectiveness in strengthening the brand. The brand is a major business strength identified in the SWOT analysis of Tesla, Inc. For example, the brand helps the company attract more customers, thereby also supporting marketing campaigns. The place and promotion components of the 4P make the company's marketing mix unusual in the automotive industry.
Tesla's Products
This element of the marketing mix identifies the organization's outputs or products sold to target customers. In this business analysis case, Tesla's products are within the automotive, energy storage, and energy generation markets. Profitable products are the ones that provide value that customers pay for. The company uses product development to fulfill corporate objectives in this 4P variable. Also of note is the company's gradual addition of new product lines to its product mix. Tesla's marketing mix has the following products:
Vehicles
Electric vehicle powertrain, batteries, and other components
Batteries, energy storage, charging
Solar panels
Tesla is known for its electric vehicles. For example, the company's sedans are among the world's most popular electric cars. However, aside from cars, the automotive business also manufactures powertrains and other components for electric automobiles that other automakers produce, thereby satisfying Tesla's mission statement and vision statement, which focus on facilitating the world's movement toward electric vehicles and sustainable energy. Moreover, the company offers batteries for home and industrial use. In relation, upon acquiring SolarCity Corporation, the company expanded its product mix to include solar panels and related installation services. This element of Tesla's marketing mix shows focus on electric vehicles, as the company offers related energy products as it seeks to grow and expand its multinational business.
Place/Distribution in Tesla's Marketing Mix
The locations or venues used to reach customers are considered in this element of the marketing mix. The business organization distributes or sells its products through such venues. Tesla, Inc. gradually expands its product mix, but the place element of its 4Ps remains the same. The company may add more places or venues as it expands, such as through acquisitions or new ventures. In this company case of Tesla, the following places are involved:
Company-owned stores and galleries
Official company websites
Company-owned service centers
Charging stations
Customers can check Tesla's automobiles, energy storage, solar panels, and related products at company-owned stores and galleries located in malls and other areas. However, customers need to use the company's website to complete sales transactions. Also, Tesla owns its service centers, where customers can access repair and maintenance services, and where the firm can render services as part of its sales contracts. Moreover, customers can charge their cars through the company's charging stations. These venues reflect the company's selection of limited but strategic locations for its business. Thus, the place element of Tesla's marketing mix highlights significant corporate management control on the sale and distribution of products. In this marketing mix, the distribution strategy for automotive and energy products relates to the location strategy in Tesla's operations management.
Tesla's Promotion
In this element of the marketing mix, Tesla's marketing communications strategies and tactics are considered. These strategies and tactics enable the global automotive business to manage and influence customer's expectations and the presentation and development of the corporate brand. Tesla's promotional mix has the following components, arranged according to significance in the automotive and energy solutions business:
Viral marketing (most significant)
Personal selling
Public relations
Sales promotions
Direct marketing
Tesla's marketing mix is unusual in the automotive industry, partly because of its dependence on viral marketing. Viral marketing has the biggest contribution in the company's promotional communication with target customers. For example, the release of the Tesla Model S for Kids is largely promoted through viral videos on social media, thereby also promoting the company's product mix. Personal selling is a 4P strategy implemented through sales personnel at company-owned stores and galleries. In addition, Tesla's marketing mix uses public relations to manage and boost its popularity. For example, the company's inclusion of its patents in the open-source movement is a testament to the business commitment to driving the world's transition toward sustainable energy. This commitment reflects Tesla's strategy for its corporate social responsibilities and stakeholder management. This commitment also supports the company's marketing strategy by improving customers' perception of the organization and its brand. On the other hand, sales promotions involve discounts for certain items and the company's customer referral program. Occasionally, the company uses direct marketing, such as selling powertrain components and batteries to other businesses. In this element of the marketing mix, viral marketing significantly determines Tesla's effectiveness in promoting its products and brand.
Prices & Pricing Strategy in Tesla's 4P
Price levels, price points, price ranges, and related strategies are covered in this element of the marketing mix. In this company analysis case of Tesla, prices support the premium brand, as well as profitability targets for a limited production scale. These prices influence profits and customers' perception. The company has the following pricing strategies:
Premium pricing strategy
Market-oriented pricing
Tesla, Inc. uses a premium pricing strategy. This primary pricing strategy involves high price points on the basis of uniqueness or high value attributed to the company's automotive products. For example, customers are willing to pay relatively high prices for Tesla automobiles, which are considered advanced in terms of technology and ecology. Thus, innovation and product design are significant factors in successfully using the company's approach to this part of the marketing mix. Premium pricing agrees with Tesla's generic competitive strategy of differentiation, which emphasizes uniqueness of products. In addition, the company uses the market-oriented pricing strategy for its solar panels and related energy products (services). This 4P strategy helps maintain competitiveness in a rapidly changing industry. These pricing strategies also help manage the strong force of competition determined in the Five Forces analysis of Tesla, Inc. It is expected that the company will change or add new pricing strategies to account for new products and trends in the transportation industry and energy solutions market.
References
Hadi, A. S., Sari, N. P., & Khairi, A. (2023, May). The Relationship Between Green Marketing Mix and Purchasing Decisions: The Role of Brand Image as Mediator. In 1st International Conference of Management and Business (ICoMB 2022) (pp. 194-205). Atlantis Press.
Poschmann, J., Bach, V., & Finkbeiner, M. (2023). Deriving decarbonization targets and pathways – A case study for the automotive industry. Journal of Cleaner Production, 409, 137256.
Solberg, C. A., & Durrieu, F. (2023). Patterns of international marketing strategy. Journal of Business & Industrial Marketing, 38(7), 1532-1544.