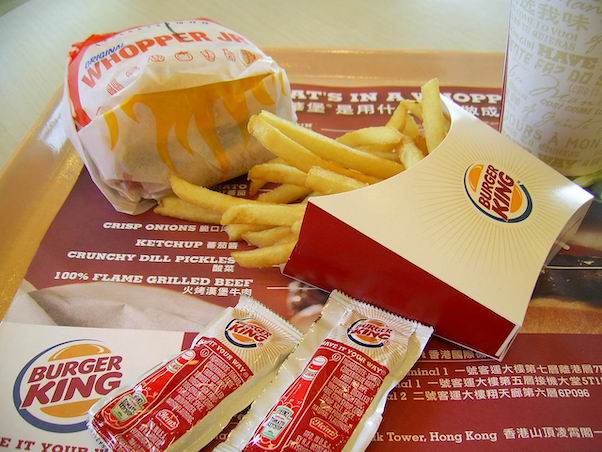 Burger King uses its marketing mix (4Ps) as a response to the dynamic and saturated condition of the global quick service restaurant industry. The marketing mix is a combination of strategies and tactics to effectively implement a marketing plan. In this case, Burger King's marketing mix aims to maximize competitiveness against a wide variety of players. However, major firms like McDonald's and Wendy's are in the focus of Burger King's marketing mix efforts. These efforts support the company's long-term goal of achieving the top position in the fast food restaurant industry.
Burger King's marketing mix (4Ps) facilitates business competitiveness. The corresponding strategies and tactics directly enable the company to address issues related to aggressive competition.
Burger King's Products (Product Mix)
Burger King operates as a quick service restaurant business focusing on burgers as its main product. This component of the marketing mix presents organizational outputs offered to target customers. Burger King's main product lines are as follows:
Burgers
Chicken and fish
Sides
Salads and veggies
Beverages
Sweets/Desserts
Aside from the main product line of burgers, Burger King also offers chicken and fish as alternatives. The sides include fries, nuggets, onion rings, and hash browns. Burger King also has a number of salads, such as MorningStar Veggie Salad and Chicken Caesar Salad. The beverages include sodas, smoothies, iced tea, juices, milk, water, coffee, and frappes. Burger King's desserts and sweets include Dutch Apple Pie, Oreo Shake, and Caramel Sundae. In addition, the company bundles its products as value meals and kids meals. In this component of the marketing mix, Burger King has a limited approach, as manifested in its limited product mix. Nonetheless, this product mix supports Burger King's generic strategy through economies of scale from large-scale production of a limited number of product lines.
Place/Distribution in Burger King's Marketing Mix
Burger King's products are available at its restaurants worldwide. This component of the marketing mix refers to the venue that firms use to transact with target customers. The following are the places Burger King uses to distribute its products:
Restaurants
Mobile app
Website for deliveries
Aside from restaurants, customers can use Burger King's mobile app to access coupons for special offers and freebies. Customers can also use the company's website to place their orders for home deliveries. In this component of the marketing mix, Burger King relies mainly on the physical presence of its restaurants.
Burger King's Promotion (Promotional Mix)
Burger King employs various tactics to promote its products. This component of the marketing mix covers the tactics used to communicate with the target market about the firm's offers. Burger King uses the following promotion/marketing communications tactics, arranged according to significance:
Advertising
Sales promotions
Personal selling
Public relations
Burger King relies mainly on advertising to promote its products. The company advertises online and on TV and print media. In addition, Burger King uses sales promotions in the form of coupons and other offers through its website and mobile app. The firm's restaurant personnel also typically use personal selling to encourage customers to buy more products from the menu, such as desserts in addition to what the customer already ordered. In applying public relations, the Burger King McLamore Foundation gives scholarships and financial assistance for educational programs, thereby also effectively promoting and strengthening the Burger King brand. The company successfully combines various promotion tactics to address this component of the marketing mix.
Burger King's Prices and Pricing Strategy
Burger King's pricing strategy is based mainly on its generic strategy of cost leadership, which minimizes costs and prices. In this component of the marketing mix, appropriate pricing of products is considered. Burger King's pricing strategies are as follows:
Market-oriented pricing strategy
Bundle pricing strategy
Burger King uses market-oriented pricing strategy as its primary approach to pricing. This pricing strategy involves setting prices based on prevailing market conditions, including supply and demand conditions as well as the pricing of competing firms. Burger King's secondary pricing approach is the bundle pricing strategy. For example, customers can buy value meals and kids meals at bundle prices that are more affordable than buying food items separately. This component of the marketing mix shows that Burger King mainly considers market conditions to determine its prices.
References
Burger King Corporation (2015). Menu.
Dominici, G. (2009). From marketing mix to e-marketing mix: a literature overview and classification. International Journal of Business and Management, 4(9), 17-24.
Goi, C. L. (2009). A review of marketing mix: 4Ps or more? International Journal of Marketing Studies, 1(1), 2.
Van Waterschoot, W., & Van den Bulte, C. (1992). The 4P classification of the marketing mix revisited. The Journal of Marketing, 83-93.
Yun-sheng, W. (2001). Perfection and innovation of 4P Marketing Mix – How to evaluate 4P Marketing Mix. Commercial Research, 5, 6.