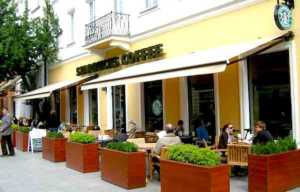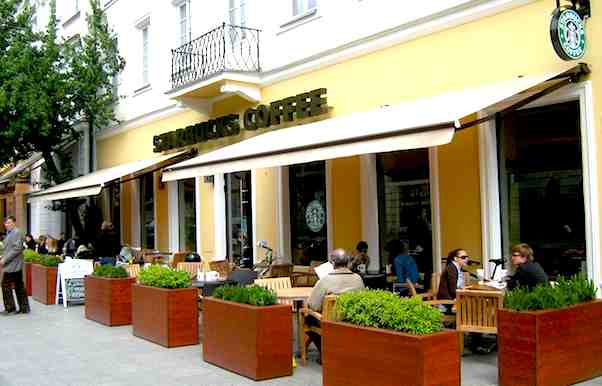 Starbucks Corporation (Starbucks Coffee Company) has a marketing mix (4Ps) that supports the firm's industry position as the leading coffeehouse chain in the world. The marketing mix identifies the main components of the company's marketing plan, namely, product, place, promotion, and price (the four Ps). In this business analysis case, Starbucks uses its marketing mix as a way of developing its brand image and popularity. With the strongest brand in the industry, the company shows how an effective marketing mix supports brand development and multinational business growth. Starbucks changes its marketing mix over time as a way of responding to strategic challenges in the market, including competitive forces involving firms like Dunkin' Donuts, McDonald's, Burger King, and Wendy's, as explained in the Porter's Five Forces analysis of Starbucks Corporation. Such changes in the marketing mix emphasize the company's need to evolve its various business operations to maintain effectiveness against growing competition.
The marketing mix or 4P functions as a marketing tool for establishing a unified and systematic approach to bring Starbucks Corporation's products to food and beverage markets around the world. Effectively doing so supports operational effectiveness in other areas of the business. In the context of the marketing mix, it is of critical importance to apply a suitable combination of approaches for promoting the right products offered at the right places at the right price. The effectiveness of this mixture supports strategies in various business areas and advances the attainment of Starbucks Corporation's mission and vision statements.
Starbucks Coffee Company's Products
This component of the marketing mix focuses on what the business offers to customers. Starbucks Corporation continues to innovate its product mix to capture more of the food and beverage market. The company adds or modifies product lines, with the aim of expanding its market reach and growing its market share. The following are the main categories of Starbucks products:
Coffee
Tea
Baked goods
Frappuccino
Smoothies
Other foods and beverages
Merchandise (mugs, instant coffee, etc.)
Starbucks Coffee Company's product mix is a result of years of business innovation. For example, the company added the Frappuccino line after it acquired The Coffee Connection in 1994. The business also has an ongoing product innovation process that aims to offer new products to attract and keep more customers, especially because the business must attract a diverse population of customers in the international market. Thus, this part of Starbucks' marketing mix involves beverages, foods, and merchandise that are carefully selected or designed to satisfy the needs and preferences of target consumers worldwide.
Place in Starbucks Coffee Company's Marketing Mix
This component of the marketing mix determines the venues at which customers can access the products. Starbucks offers most of its products at cafés or coffeehouses. However, there are various other places or channels of distribution available for these products. In this case, the following are the main venues or places that Starbucks Corporation uses to reach its target customers:
Coffeehouses/Cafés
Retailers
Mobile apps
Initially, Starbucks sold its products through coffeehouses. Eventually, the company offered some of its products through its online store. This approach served as a major integration of e-commerce into the company's strategies. However, Starbucks ended its online store operations in 2017. The strategic change reflects the company's shift to focus on in-store experience in brick-and-mortar coffeehouses. Nonetheless, some of Starbucks' merchandise items are available through retailers. On the other hand, mobile apps allow customers to conveniently place their orders online so they could easily get their food and drinks at the company's coffeehouses. This part of Starbucks' marketing mix shows how the firm adapts to changing times, technologies, and market conditions.
Starbucks Promotions (Marketing Communications Mix)
This component of the marketing mix refers to the communication strategies used to disseminate information about the firm and its products, and to encourage customers to buy these products. Starbucks Corporation promotes its products through interpersonal relations and communications, although advertising is also part of the promotional approach. In this case, Starbucks' promotional mix is as follows:
Word-of-mouth marketing
Advertising
Sales promotions
Public relations
Starbucks became popular primarily through word-of-mouth marketing. In the marketing mix, word-of-mouth usually focuses on providing the best customer experience in order to encourage people to spread positive words about the business. The company also advertises its products through television, print media, and the Internet. Sales promotions are used in Starbucks Rewards, which is a program involving freebies that customers can avail after purchasing a certain amount of the company's products. The corporation infrequently uses public relations, which has not always been successful for the business. For example, the Race Together public relations campaign was widely criticized. Still, the Starbucks Foundation continues its efforts to solve various challenges in society. The Foundation helps communities, while promoting the company's brands. This part of Starbucks Corporation's marketing mix shows the core significance of word-of-mouth marketing, advertising, and the supporting roles of public relations and sales promotions for the coffeehouse chain business.
Prices and Pricing Strategy of Starbucks Coffee Company
Starbucks uses a premium pricing strategy. In the marketing mix context, this pricing strategy takes advantage of the behavioral tendency of people to purchase more expensive products on the basis of the perceived correlation between high price and high value. The company's coffee products are more expensive than most competing products, such as McDonald's Premium Roast. Through this pricing strategy, Starbucks maintains its high-end specialty image. Still, the company strives to develop and actually provide high quality products and satisfactory customer experience in its coffeehouses. This part of the marketing mix directly relates to Starbucks Corporation's generic competitive strategy, in helping the business maintain its premium brand image.
References
Datta, H., Ailawadi, K. L., & van Heerde, H. J. (2017). How well does consumer-based brand equity align with sales-based brand equity and marketing-mix response? Journal of Marketing, 81(3), 1-20.
Hanssens, D. M., Pauwels, K. H., Srinivasan, S., Vanhuele, M., & Yildirim, G. (2014). Consumer attitude metrics for guiding marketing mix decisions. Marketing Science, 33(4), 534-550.
Rahmani, K., Emamisaleh, K., & Yadegari, R. (2015). Quality Function Deployment and New Product Development with a focus on Marketing Mix 4P model. Asian Journal of Research in Marketing, 4(2), 98-108.
Steenkamp, J. B. (2017). Global Marketing Mix Decisions: Global Integration, Not Standardization. In Global Brand Strategy (pp. 75-109). Palgrave Macmillan, London.
Van Waterschoot, W., & Van den Bulte, C. (1992). The 4P classification of the marketing mix revisited. The Journal of Marketing, 83-93.
Yun-sheng, W. (2001). Perfection and innovation of 4P Marketing Mix – How to evaluate 4P Marketing Mix. Commercial Research, 5, 6.