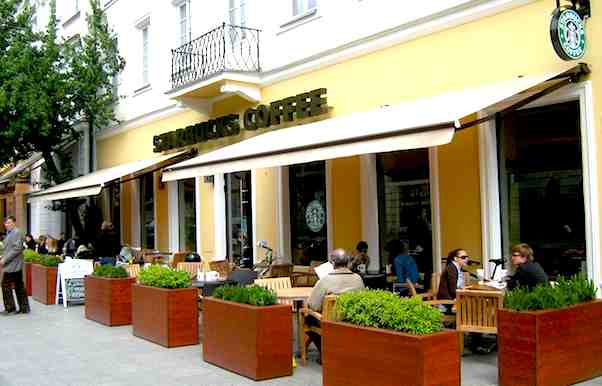 Starbucks Corporation (Starbucks Coffee Company) has a marketing mix (4Ps) that supports the firm's industry position as the leading coffeehouse chain in the world. The marketing mix identifies the main components of the coffee company's marketing plan, namely, product, place, promotion, and price (the four Ps). In this business analysis case, Starbucks uses its 4Ps to develop its brand image and ensure profitability. With the strongest brand in the coffeehouse industry, the company shows how an effective marketing mix supports brand development and multinational business growth. The corporation occasionally changes its 4P mixture to respond to strategic challenges in the market, including competitive forces involving firms like Dunkin', Tim Hortons, McDonald's, Burger King, Subway, and Wendy's. These competitors challenge the company's market position, as explained in the Porter's Five Forces analysis of Starbucks Corporation. In this regard, the marketing mix functions as a strategic approach to counteract competition against the coffee business.
The marketing mix or 4P is a strategic tool for establishing a unified and systematic approach to bringing Starbucks Corporation's products to food and beverage markets around the world. Based on its 4Ps, the coffeehouse company applies a combination of market strategies and tactics to promote the right products at the right places at the right price. The success of the marketing mix contributes to operational effectiveness and supports Starbucks's corporate mission statement and corporate vision statement.
Products
This component of the marketing mix focuses on what the coffee business offers to customers. Starbucks Corporation innovates its product mix (and its 4Ps) to capture more of the market. The company modifies food and beverage product lines with the aim of expanding its market reach and growing its market share. The following are the main categories in Starbucks's product mix:
Coffee
Tea
Baked goods
Frappuccino
Smoothies
Other foods and beverages
Merchandise (mugs, instant coffee, etc.)
Starbucks Coffee Company's product mix is a result of years of business innovation and strategic changes in the marketing mix. For example, the company added the Frappuccino line after acquiring The Coffee Connection in 1994. The business continues its product innovation in order to offer new foods and beverages that attract and keep more customers. The resulting marketing mix, together with Starbucks Corporation's generic strategy for competitive advantage and intensive growth strategies, ensures that products match consumer preferences in a diverse international market. Thus, this part of the 4Ps involves beverages, foods, and merchandise that are carefully selected or designed to satisfy the needs and preferences of target consumers worldwide.
Place in Starbucks's Marketing Mix
This marketing mix component determines the venues where customers access the company's foods, beverages, and merchandise. Starbucks offers most of its products at cafés or coffeehouses. However, other places or channels of distribution are included in this 4P component. This marketing case shows that Starbucks Corporation distributes its products through the following venues or places to reach target consumers:
Coffeehouses/Cafés
Retailers
Website and mobile apps
Coffeehouses or cafés are the most noticeable distribution venues in Starbucks's marketing mix. These places are strategically located in areas that have high pedestrian traffic, such as malls and commercial centers. Starbucks Corporation's organizational structure facilitates the management of franchising and licensing operations for these locations. Retailers are also included in the coffeehouse company's 4Ps, as channels for maximizing distribution and market reach. These places enable the company to distribute coffee products, such as VIA Ready Brew instant coffee, and other merchandise. In addition, online venues are in Starbucks's marketing mix. The company's website and mobile apps provide easy access for customers who want to check available products or place their orders for pickup or for delivery through third-party service providers. The information technology used in this 4P component addresses the sociocultural and technological trends described in the PESTEL/PESTLE analysis of Starbucks Corporation. Thus, the company's marketing mix involves strategies and tactics that use different types of locations to optimize the distribution of food and beverage products. The high visibility and accessibility of these places contribute to positive brand image, which is one of the strengths assessed in the SWOT analysis of Starbucks Coffee Company.
Promotions (Marketing Communications Mix)
In the marketing mix, promotions, also known as the marketing communications mix, refer to communication strategies and tactics for the goal of improving Starbucks's brand, revenues, and market share. For example, promotional activities can focus on persuading consumers to buy the company's tea and instant coffee products. Starbucks's marketing mix includes the following promotional mix:
Word-of-mouth marketing
Advertising
Sales promotions
Public relations
Word-of-mouth marketing is the most significant promotional strategy in Starbucks's marketing mix. The company focuses on high-quality customer experience to encourage people to spread positive reviews that promote the coffeehouse business. Howard Schultz's emphasis on high quality through Starbucks Corporation's organizational culture helps create such good experiences for customers. In addition, advertising is an integral part of the coffee company's 4Ps. For example, the company's coffee and tea ads reach target customers through the Internet and print media. Moreover, the marketing mix involves sales promotions as a communications strategy to persuade consumers to buy more of the company's foods and beverages. For example, the Starbucks Rewards program provides freebies for customers. In this approach, consumers buy more of the company's products while expecting freebies, such as free coffee. Furthermore, the company uses public relations to promote its brand and coffee products. In the 4P context, the Starbucks Foundation functions as a part of a public relations strategy. The Foundation provides assistance to organizations and communities while promoting the coffeehouse company in the process. Starbucks's stakeholder management and corporate social responsibility strategy relate to public relations in this marketing mix.
Prices and Pricing Strategy in Starbucks Coffee Company's 4P
Starbucks uses a premium pricing strategy. This strategy involves relatively high price points and price ranges for products that the coffeehouse business presents as superior-quality or high-end ("premium prices" for "premium products"). In the marketing mix context, Starbucks's pricing strategy takes advantage of the behavioral tendency of consumers to purchase expensive products based on the perception that high prices mean high quality, high value, and high status. This part of the 4Ps also helps strengthen the premium brand against competitors like McDonald's Premium Roast. Starbucks's operations management optimizes quality and costs to support the pricing strategy in this marketing mix.
References
Darmawan, D., & Grenier, E. (2021). Competitive advantage and service marketing mix. Journal of Social Science Studies (JOS3), 1(2), 75-80.
Datta, H., Ailawadi, K. L., & van Heerde, H. J. (2017). How well does consumer-based brand equity align with sales-based brand equity and marketing-mix response? Journal of Marketing, 81(3), 1-20.
Mintz, O., Gilbride, T. J., Lenk, P., & Currim, I. S. (2021). The right metrics for marketing-mix decisions. International Journal of Research in Marketing, 38(1), 32-49.
Pepels, W. (2021). The 4Ps in marketing-mix. Research and Development, 35, 38.
Purohit, S., Paul, J., & Mishra, R. (2021). Rethinking the bottom of the pyramid: Towards a new marketing mix. Journal of Retailing and Consumer Services, 58, 102275.
Steenkamp, J. B. (2017). Global Marketing Mix Decisions: Global Integration, Not Standardization. In Global Brand Strategy (pp. 75-109). Palgrave Macmillan, London.
Wichmann, J. R., Uppal, A., Sharma, A., & Dekimpe, M. G. (2022). A global perspective on the marketing mix across time and space. International Journal of Research in Marketing, 39(2), 502-521.