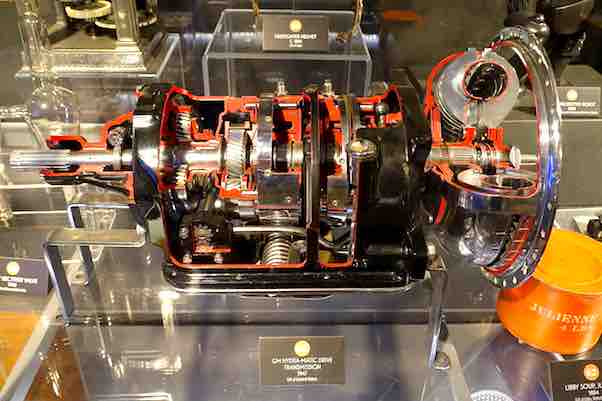 General Motors Company (GM) has an organizational culture that supports responsible innovation for business competitiveness. This corporate culture defines employees' behavioral traits and values that reflect the automotive company's philosophy and principles. Human resource management applies this organizational culture to reinforce the brand and other business strengths identified in the SWOT analysis of General Motors Company. The company culture is also a response to the strategies of competitors, like Toyota, Ford, Tesla, Honda, Hyundai, and Nissan, as well as Volkswagen, Mercedes-Benz, and Stellantis. The Five Forces analysis of General Motors Company indicates that competitors exert a strong competitive force. GM's corporate culture makes the business resilient to such a competitive force.
The organizational culture also demonstrates the business response to the external trends enumerated in the PESTEL/PESTLE analysis of General Motors Company. For example, the emphasis on innovation in the organizational culture addresses the trend of autonomous driving technology, which underscores the strategic importance of other firms with driverless technology endeavors, such as Apple, Uber, and Alphabet's (formerly Google's) Waymo. General Motors' corporate culture supports innovation for business competitiveness despite such trends.
GM's Organizational Culture Characteristics
General Motors' corporate culture values innovation for the agility of the business organization. An innovative workforce enables the car company to develop competitive products. The following are the main characteristics of General Motors' organizational culture:
Innovative
Safety-oriented
Inclusive and accessible
Ethical
Innovative. GM's organizational culture encourages employees to innovate for better products and business processes. This characteristic of the corporate culture aligns with General Motors' corporate mission statement and corporate vision statement, which emphasize technological advancement. Also, this innovative company culture influences strategic planning and management decisions in the automobile business. For example, General Motors' generic strategies for competitive advantage and intensive growth strategies involve technologically innovative products. Similarly, the organizational culture influences the company's approach to the automobile market. General Motors' marketing mix or 4P highlights technological innovation in the company's car models.
Safety-Oriented. Workplace safety and transportation safety are prioritized in General Motors' corporate culture. Workers are motivated to keep the business safe, and to contribute ideas for improving the safety of transportation. This characteristic of GM's organizational culture relates to approaches used in managing operations. Safety in operations makes the automaker's human resources efficient and effective, and minimizes downtime. The corporate culture supports holistic safety strategies in General Motors' operations management and related processes in human resource management. Thus, workplace safety and transportation safety are facilitated through the cultural qualities of the automotive business.
Inclusive and Accessible. General Motors' organizational culture involves the principles of inclusion and accessibility for workers. This inclusive corporate culture promotes diversity in the automakers' workplaces. The cultural emphasis on accessibility helps remove barriers to General Motors' resources for employees with disabilities. Inclusiveness and accessibility in employees' behaviors also affect customers, who interact with workers at GM or personnel at dealerships. General Motors' organizational structure or corporate structure is designed to facilitate this organizational culture of inclusiveness and accessibility for human resources. For example, structural divisions have tools and resources for workers with disabilities, to enable and support the accessibility component of GM's corporate culture.
Ethical. Principles of business ethics and corresponding strategies and tactics are included in the organizational culture of General Motors Company. This characteristic of the company culture motivates the adoption of ethical behaviors and decisions that benefit the employees, customers, and partners of the automotive business. For example, through this corporate culture, managers are encouraged to take measures to prevent employee burnout. Also, the cultural push for business ethics influences strategies and tactics for General Motors' corporate social responsibility and corporate citizenship. These strategies reflect the corporate culture through inclusive human resource management for GM workers, community-based projects, and automobile safety.
Advantages and Disadvantages of General Motors' Corporate Culture
An advantage of General Motors' organizational culture is its support for human resource development. The cultural attributes of inclusiveness and accessibility address career growth and development among the car maker's employees. Another advantage of General Motors' corporate culture is that it facilitates innovation. Competitive innovation is a key success factor in the automotive industry. In relation, the emphasis on ethics in GM's organizational culture addresses societal or community concerns regarding employment practices, the effects of marketing communications, and the function and safety of cars and trucks. Thus, General Motors benefits from a corporate culture that suits current business needs and challenges in the automobile market.
A disadvantage of General Motors' organizational culture is the difficulty of implementing the attribute of innovation, especially in the form of breakthrough technologies. An innovative workforce is a critical success factor in the industry, where automakers aggressively pursue the technological advancement of their vehicles. In this aspect of its corporate culture, GM may find it challenging to maintain highly innovative employees to match current and emerging trends in automobile technology. These trends include autonomous driving technology, artificial intelligence integration in automobiles, and emerging cutting-edge technologies for transportation solutions.
Another disadvantage of General Motors' corporate culture is the specificity of "safety" as a cultural trait, instead of a more encompassing "quality" cultural trait. An organizational culture of quality would include the factor of safety in the automotive company's products and operations. General Motors' company culture does not specify the quality levels of innovation, safety, inclusiveness, accessibility, and ethical practice. How should the company ensure the quality of innovation in its business processes and automobiles? How should GM ensure the quality of business ethics applications among workers? These are just some of the concerns that General Motors' corporate culture does not directly address. Including quality as a trait of the organizational culture can make the culture more holistic in enhancing the automotive business.
References
GM Able Is Creating an Inclusive and Accessible Culture for Employees with Disabilities, Caregivers, and Allies at General Motors.
Karneli, O. (2023). Analysis of motivation, work culture, and work environment on the level of employee integrity in the company. International Journal of Environmental, Sustainability, and Social Science, 4(2), 547-551.
Mingaleva, Z., Shironina, E., Lobova, E., Olenev, V., Plyusnina, L., & Oborina, A. (2022). Organizational culture management as an element of innovative and sustainable development of enterprises. Sustainability, 14(10), 6289.
Sánchez-Bayón, A., García-Vaquero, M., & Lominchar, J. (2021). Wellbeing Economics: Beyond the labour compliance & challenge for business culture. Journal of Legal, Ethical and Regulatory Issues, 24, 1-13.
Siyal, S., Ahmad, R., Riaz, S., Xin, C., & Fangcheng, T. (2022). The impact of corporate culture on corporate social responsibility: Role of reputation and corporate sustainability. Sustainability, 14(16), 10105.
Smith, S. (2022). Driving company culture in a post-pandemic world. Strategic HR Review, 21(4), 113-116.