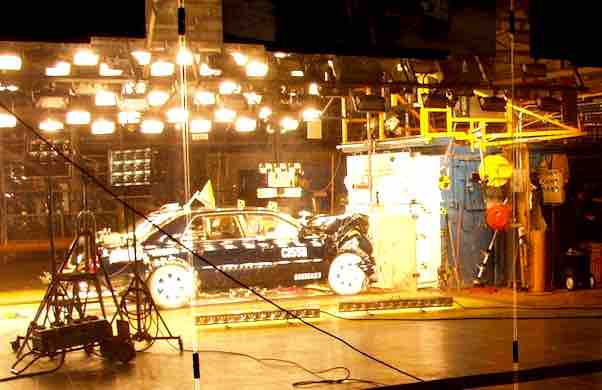 General Motors Company (GM) has a corporate social responsibility strategy that supports business growth objectives in the global automotive industry. Archie Carroll's theory of corporate social responsibility establishes the mutual influence of business and stakeholders, which are individuals or groups that have interests in the business or its outputs. In the case of General Motors, the CSR strategy is based on stakeholders' interests in the manufacture, sale and use of GM automobiles. For example, the company must satisfy communities' interests in the sustainability and minimization of the environmental impact of the business. Satisfying such interests contributes to General Motors' fulfillment of its corporate responsibilities, leading to the achievement of corporate citizenship. As a major firm in the global market, the company must ensure that its corporate social responsibility strategy matches stakeholders' expectations. The CSR strategy must also continually support business growth and the achievement of General Motors' vision statement and mission statement.
The stakeholders in General Motors are varied because of the global reach of the automotive business. Nonetheless, the company's corporate social responsibility strategy is applied throughout the organization, based on common interests identifiable among these stakeholders. For example, the CSR approach involves sustainability programs that address relevant concerns of customers and communities regarding the environmental impact of General Motors' operations. The resulting unified corporate social responsibility strategy facilitates GM's corporate citizenship through suitable programs that benefit stakeholders and the business alike. The company believes that its corporate responsibility initiatives are satisfactory, although improvements are needed.
General Motors Company's Stakeholder Groups & CSR Initiatives
In implementing a holistic approach to grow its automotive business, General Motors has a corporate social responsibility strategy that considers the needs of all the major stakeholders. Based on its CSR policy, GM must contribute to a "better future" for the business and its stakeholder groups. The pertinent corporate responsibility programs are designed to maximize benefit. For example, in implementing sustainability programs, General Motors benefits communities and customers, while also contributing to improvements in GM's brand image, product competitiveness, and potential revenues. Thus, corporate citizenship is achieved through broad-impact CSR initiatives. Such stakeholders are prioritized as follows, based on General Motors' corporate social responsibility strategy:
Employees (highest-priority stakeholders)
Customers
Communities
Suppliers
Investors
Employees. General Motors Company believes that the business depends most significantly on its employees. As such, this stakeholder group has the highest priority level in the company's corporate social responsibility strategy. Employees are important because they define the organizational capabilities in all aspects of General Motors' business. These stakeholders are concerned about competitive compensation and career opportunities in GM's automotive business. For example, skilled workers are typically more attracted to employers that offer concrete career development plans. General Motors satisfies this stakeholder group's interests through a CSR strategy that includes programs specific to developing human resources. For instance, through the GM Technical Education Program, the company pays for employees' education expenses at partner universities around the world. Such corporate responsibility program supports the career advancement of this stakeholder group and satisfies General Motors' human resource requirements. In addition, the company has employee-engagement initiatives to encourage employees to get involved in programs beyond the organization, such as sustainability projects in collaboration with other businesses and with governments. These corporate social responsibility activities contribute to the achievement of corporate citizenship ideals and partly determine General Motors' organizational culture.
Customers. With significant influence on revenues and profits, customers take the second priority level in General Motors' corporate social responsibility initiatives. This stakeholder group has interests in product pricing, design, and quality. Customers are also increasingly interested in ensuring that General Motors' operations have minimal impact on the natural environment, thereby also emphasizing the importance of sustainability in GM's operations in the automotive industry. The automaker addresses these interests in its CSR strategy by developing high-quality cars through continuous innovation. For example, innovation processes emphasize value and technological breakthrough in General Motors' automobiles. With these considerations, GM's official websites contribute to corporate citizenship by providing valuable information to help customers make the best automobile purchase decisions. In essence, partly for corporate responsibility and partly for financial performance, the products, promotional tactics, and pricing strategies in General Motors' marketing mix or 4Ps are based on customers' interests. In this way, the company's approach to its corporate social responsibilities for this stakeholder group is multi-pronged.
Communities. Communities are interested in the positive or beneficial effects of business, including the effects of corporate social responsibility activities. This stakeholder group is important because of its impact on General Motors' corporate image and brand image, and on customers' perception of GM's automotive products. For example, communities can spread positive publicity about the company, based on its sustainability and other corporate citizenship efforts. Similarly, communities' negative responses to General Motors could create negative publicity that erodes corporate image and brand value. In addressing these stakeholders' interests, the company's corporate social responsibility strategy includes community development and support initiatives. For example, the General Motors Fund gives financial assistance for American charities, international educational organizations and programs, and disaster relief programs in various regions of the world. In this way, the CSR strategy has a direct link with communities. The combination of these various programs and initiatives supports the fulfillment of corporate responsibilities. As a result, this corporate social responsibility strategy addresses, among many issues, the ecological and sociocultural external factors identified in the PESTEL/PESTLE analysis of General Motors Company.
Suppliers. The Five Forces analysis of General Motors Company shows that suppliers have a weak bargaining power over the business and the automotive industry. However, the company's corporate social responsibility strategy gives importance to this stakeholder group's interests. Suppliers significantly affect the availability of materials and the corresponding operational capacity of the company (See General Motors' Operations Management and Productivity). The interests of these stakeholders include profits and growth based on doing business with GM. These interests are addressed in the company's CSR strategy through programs for improving the supply chain. For example, General Motors' sustainability strategy extends to suppliers. The company works with suppliers to ensure that the supply chain is as sustainable as possible. In addition, GM works with suppliers to develop solutions to challenges in transportation. This kind of cooperation enables suppliers to develop their businesses while supporting GM's supply needs. The combination of these corporate responsibility initiatives helps these stakeholders improve their respective corporate citizenship positions. Thus, General Motors' corporate social responsibility strategy addresses the interests of suppliers as considerable stakeholders in the automotive business.
Investors. Investors are determinants of the capital and business value of General Motors. This condition makes investors a significant stakeholder group that affects business operations, warranting inclusion in the company's corporate social responsibility strategy. Investors are interested in profits and continued growth of General Motors. The company's CSR approach satisfies these interests through continuous improvement and innovation. For example, innovation is key to GM's new strategies to grow the automotive business. Also, General Motors' generic competitive strategy and intensive growth strategies are applied to ensure business development and competitive advantage. In addition, corporate citizenship is achieved while satisfying investors through growth and sustainability programs based on the company's economies of scale. Large-scale manufacturing facilities, a global supply chain and a global distribution network support such economies of scale, which are seen as a major strength in the SWOT analysis of General Motors Company. Based on these activities, the company's corporate social responsibility efforts are suited to the interests of investors as a stakeholder group in the business.
Summary & Recommendations – General Motors' CSR & Stakeholders' Interests
The activities included in General Motors' corporate social responsibility strategy are satisfactory in addressing the interests of the major stakeholder groups in the automotive business. For example, GM has considerable initiatives for supporting programs that benefit its business and communities, such as sustainability programs and educational programs. Overall, the CSR strategy fulfills business ideals for corporate citizenship and brand enhancement objectives of General Motors.
Despite the strong points of this corporate social responsibility strategy, improvements are applicable as a way of strengthening General Motors. For instance, the CSR strategy can include additional programs for supporting community development. Also, the company can boost GM's production capacity through improvements among suppliers and the supply chain. Thus, the following recommendations are pertinent to improving stakeholders' satisfaction through General Motors Company's corporate social responsibility strategy:
Add new programs, such as skills training programs, for community livelihood development.
Implement skills development and innovation programs for suppliers to help align their capabilities with GM's needs.
Diversify the business to improve quality enhancement capabilities and to reduce risk exposure, addressing investors' concerns.
References
Fatima, T., & Elbanna, S. (2023). Corporate social responsibility (CSR) implementation: A review and a research agenda towards an integrative framework. Journal of Business Ethics, 183(1), 105-121.
Homer, S. T., Yee, K. V., & Khor, K. S. (2023). Developing a measurement instrument for perceived corporate citizenship using multi-stakeholder, multi-industry and cross-country validations. Quality & Quantity, 57(1), 277-300.