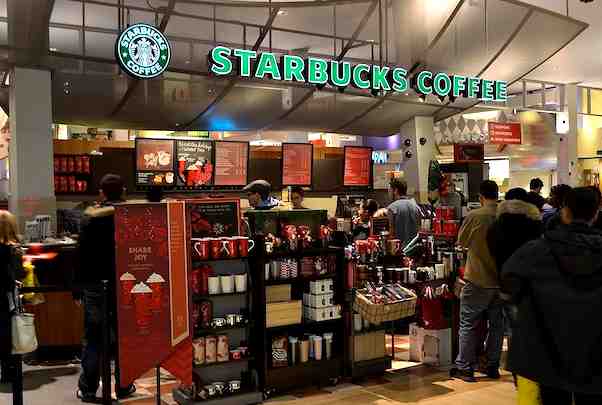 Starbucks Corporation manages stakeholder interests through corporate social responsibility (CSR) programs that match issues relevant to the food service industry. These issues, such as the ecological concerns and other trends shown in the PESTLE/PESTEL analysis of Starbucks, encourage businesses to integrate corporate citizenship and green business practices into their strategies. In this case, the coffeehouse company advocates CSR-focused social movements, especially those pertaining to sustainability. Based on Archie B. Carroll's description of corporate social responsibility, Starbucks accounts for the interests of stakeholders, because the company is viewed as a citizen of society. The coffee business has a corporate citizenship approach that addresses multiple stakeholder groups, such as employees and farmers.
The effectiveness of social responsibility strategies influences long-term success and the satisfaction of business goals and objectives based on Starbucks' mission statement and vision statement. The company's CSR and stakeholder management programs support strategies for leadership in the coffeehouse industry.
Starbucks' Stakeholders & CSR Initiatives
Starbucks' corporate social responsibility practices address the concerns of different stakeholder groups. These CSR practices are similar to those of other large multinational companies in food service and other industries. Starbucks' corporate citizenship approach deals with the concerns of its stakeholders, as follows:
Employees (baristas, partners) – highest priority
Customers
Suppliers (supply firms, coffee farmers, and others)
Environment and communities
Investors
Governments
Employees. Starbucks prioritizes employees in its corporate social responsibility efforts. As stakeholders, employees are interested in better working conditions, job security, and higher wages. This prioritization agrees with Starbucks' organizational culture (company culture) and its emphasis on the employees-first attitude. The company sets its employees' wages above the legally mandated minimum wage. Also, Starbucks boosts its corporate citizenship performance for this stakeholder group by giving scholarships to employees, in partnership with Arizona State University.
Customers. Starbucks considers customers among its top stakeholders. The interests of this stakeholder group are high-quality service and products, such as coffee and other beverages. As the world's most popular coffeehouse chain, Starbucks effectively addresses these interests through its corporate social responsibility efforts. The company extends its corporate culture to customers at its cafés. For example, warm and friendly relations are emphasized in the company and in how baristas interact with customers. This approach enhances Starbucks' service quality and customer experience. Also, the company has stringent standards and requirements for its supply of raw materials, like coffee beans. These quality standards contribute to the business strengths shown in the SWOT analysis of Starbucks Corporation. Thus, the coffee company's corporate social responsibility strategy accounts for the interests of this stakeholder group of customers.
Suppliers. Starbucks suppliers include wholesale supply firms, coffee farmers, and other vendors or producers. The main CSR interest of this stakeholder group is the profitability of business relations with the coffeehouse chain. For example, coffee farmers aim to increase their yield to generate more revenues while supplying Starbucks. The company's corporate citizenship approach addresses coffee farmers and related stakeholders through a supplier diversity program that aims to include more suppliers from around the world, while stabilizing the supply chain. Moreover, the company's Coffee and Farmer Equity (CAFE) program requires transparency among wholesale suppliers to ensure that coffee farmers are properly paid. Starbucks' operations management, particularly supply chain management, supports these multi-pronged corporate social responsibility efforts for the interests of this stakeholder group of suppliers.
Environment and Communities. Starbucks has corporate social responsibility programs for ecologically sound and green business operations. The company's CAFE program leads to higher biodiversity and shade quality in certified coffee farms. Currently, most of the company's supply comes from CAFE-certified farms. This situation reflects sustainability goals as the business improves its coffeehouse chain operations. Other corporate social responsibility efforts include support programs for communities, such as through the Starbucks Foundation. These multiple programs and initiatives enable the coffee company to improve its corporate citizenship status while benefiting the stakeholder group of communities and the environment.
Investors. As a business, Starbucks Corporation must address investors as stakeholders. In the corporate social responsibility context, investors are interested in the economic benefits of the coffeehouse chain, particularly in terms of dividends and share price. As a responsible business, the firm maintains dominant and profitable global operations in the coffeehouse industry, thus satisfying investors' need for profitability and business growth. Also, to address this corporate social responsibility, Starbucks keeps improving its competencies to protect the business against competitors, including coffeehouse firms, like Tim Hortons and Costa Coffee, as well as food-service businesses, such as Dunkin', McDonald's McCafé, Wendy's, Burger King, and Subway. These competitors offer food, coffee, and other drinks that affect Starbucks' strategies for its corporate citizenship.
Governments. Starbucks' social responsibility efforts address the interests of the stakeholder group of numerous governments, considering the company's global presence. The coffee business complies with rules and regulations but has been criticized for its tax practices in Europe. Starbucks uses a network of locations in different European countries to exploit tax advantages. Thus, the company's corporate social responsibility efforts can be improved to better address this stakeholder group.
Starbucks' Corporate Citizenship: Performance and Actions
Starbucks has satisfactory corporate social responsibility performance in addressing the interests of most of its stakeholders. The food-service company satisfies most of the concerns of its stakeholder groups, like customers, employees, suppliers, the environment and communities, and investors. However, the corporation can improve its CSR performance by reaching a 100% CAFE-certified ethical supply chain to maximize the benefits for communities and the environment. Starbucks can also improve its corporate citizenship performance in addressing governments by improving its tax practices, compliance, and related governance areas. These are areas where the coffeehouse chain can implement changes to boost its corporate social responsibility performance to satisfy its stakeholders.
References
Fatima, T., & Elbanna, S. (2023). Corporate social responsibility (CSR) implementation: A review and a research agenda towards an integrative framework. Journal of Business Ethics, 183(1), 105-121.
Park, J. G., Park, K., Noh, H., & Kim, Y. G. (2023). Characterization of CSR, ESG, and corporate citizenship through a text mining-based review of literature. Sustainability, 15(5), 3892.
Siyahhan, B. (2023). Stakeholders and corporate social responsibility: What makes firms tip over to CSR investments? Managerial and Decision Economics, 44(3), 1436-1453.