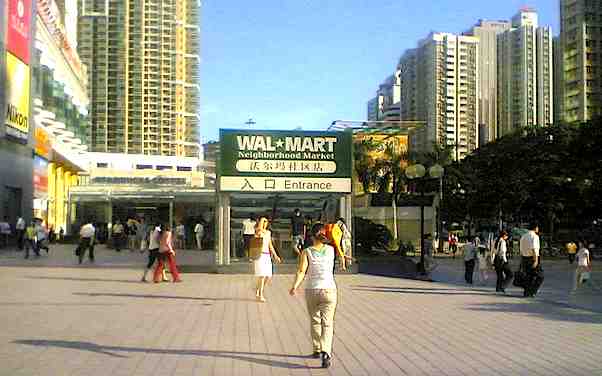 This SWOT analysis of Walmart Inc. presents the company's strengths and weaknesses, as well as the business opportunities and threats relevant to the condition of the retail industry. As a leading retailer, the company has competitive advantages linked to its market position and organizational size. However, to fulfill Walmart's mission statement and vision statement in the long term, the business needs to match its strategic decisions to the issues arising from the SWOT factors. For instance, the company must account for opportunities and threats that represent external forces in the retail market. Walmart optimizes its operations based on a variety of internal and external factors, including the ones examined in this SWOT analysis.
This SWOT analysis includes an internal analysis of Walmart's strengths and weaknesses (internal strategic factors) and an external analysis of business opportunities and threats (external strategic factors). These strengths, weaknesses, opportunities, and threats provide a picture of the strategic planning options available to the retail corporation. The SWOT variables enumerated below affect the company, as well as its customers, business partners, suppliers, and competitors in the retail industry.
Strengths (Internal Strategic Factors)
Walmart's strengths are business characteristics that enable growth, expansion, and profitability. In this part of the SWOT analysis, such characteristics strengthen the business against external forces, such as the threat of competition. The following internal factors are Walmart's strengths:
Dominant brick-and-mortar retail presence
High-efficiency logistics and global supply chain
Strong bargaining power against suppliers and manufacturers
Walmart's industry position comes with a dominant brick-and-mortar retail presence, which is a business strength in this SWOT analysis. This strength enables the company to maintain a stable market share, despite aggressive competitors, like Amazon and Target. The large brick-and-mortar presence, along with the operations of the subsidiary, Sam's Club, helps protect Walmart from competition, which includes Amazon's relatively small brick-and-mortar operations. In addition, the high-efficiency logistics and global supply chain are a strength that this SWOT analysis links to the retail company's growth potential. This internal strategic factor facilitates the ability to offer low prices, in support of Walmart's generic competitive strategy and intensive growth strategies. This SWOT analysis also points to the retail company's bargaining power as a strength for influencing suppliers and manufacturers. Based on the company's large organizational size, this internal factor strengthens the business in imposing low prices on goods sold at its stores. This pricing strategy affects suppliers and manufacturers, while ensuring low selling prices at the company's stores and e-commerce website. To support high efficiencies and large-scale operations, Walmart's operations management involves advanced business information systems and related technologies. These technological applications help minimize costs, errors, and delays in retail business processes. Walmart's inventory management is also a foundation that supports the strengths mentioned in this part of the SWOT analysis.
Walmart's Weaknesses (Internal Strategic Factors)
Walmart's weaknesses impose challenges in withstanding external forces, such as the threats identified in this SWOT analysis. Business weaknesses are internal factors related to the retail company's ability for further business development, additional competencies, and higher profits. The following are Walmart's weaknesses:
Limited e-commerce operations
Absent or insignificant operations in international shipping
Competitive disadvantage relative to specialty sellers' product quality
Despite its efforts to grow in the online retail space, Walmart's e-commerce operations are small compared to Amazon's. In this SWOT analysis, such a limitation is an internal strategic factor that weakens Walmart's ability to capture a larger share of the retail market. Also, absent or insignificant operations in international shipping constrain potential growth based on international purchases. This weakness is in contrast to Amazon's integrated international shipping options. Considering such a weakness, this SWOT analysis accounts for the trend of growing international online sales in more markets and market segments worldwide, among other trends described in the PESTEL/PESTLE analysis of Walmart Inc. Furthermore, because of its emphasis on low costs and low prices, the company is at a competitive disadvantage relative to specialty retailers' product quality. Specialty retailers offer differentiated goods and services, such as high-quality customer service and high-end groceries. This competitive disadvantage is a weakness in this SWOT analysis of Walmart because it reduces the business ability to attract customers who prefer high-end shopping experiences.
Opportunities for Walmart (External Strategic Factors)
Walmart's opportunities are options for growing the business, based on external forces or conditions in the retail industry environment. This part of the SWOT analysis shows the external factors that the company can pursue to improve its business performance, especially in e-commerce and international operations. The following are Walmart's opportunities:
Global expansion of e-commerce operations
Establishment of international shipping
Expansion of brick-and-mortar operations to more countries
The opportunity for global e-commerce expansion addresses the weakness of Walmart's limited e-commerce operations. As mentioned earlier in this SWOT analysis, such a weakness limits the company's share of the retail market. Thus, global e-commerce operations can boost the company's international market share. In relation, the company can establish international shipping operations that support global e-commerce. In this SWOT analysis of Walmart, international shipping is an opportunity for the company's multinational success. Moreover, considering its primary dependence on sales in the United States, the company has opportunities for establishing brick-and-mortar stores in more countries in order to increase profits. Walmart's marketing mix or 4Ps can support marketing campaigns to exploit these opportunities. For instance, promotional tactics can facilitate the success of new stores in new markets. Also, appropriate modifications to Walmart's organizational structure or corporate structure, such as new managerial teams for new business processes, can facilitate multinational operations to grow the company based on the opportunities shown in this part of the SWOT analysis.
Threats (External Strategic Factors)
The threats to Walmart's business are linked to the retail market condition, human resource availability, and international relations. This part of the SWOT analysis shows how external forces in the industry environment can hamper the retail company's improvement. The following external factors are threats to Walmart:
Competitive threat from online and brick-and-mortar firms
Supply chain disruptions due to political, economic, and health factors
Labor market disruptions
Competition presents a major threat in the retail industry, as shown in the Five Forces analysis of Walmart Inc. For example, the company competes against Amazon's brick-and-mortar stores, marketplace, and e-commerce services; and eBay's marketplace. Also, Walmart experiences competitive pressure from Target, Home Depot, Costco, and Best Buy, as well as Kroger, Lowe's, Rakuten, and 7-Eleven. In this SWOT analysis, such a diversity of competitors creates a strong external force in the retail industry.
On the other hand, supply chain disruptions also threaten Walmart's business. These disruptions are external strategic factors connected to the political and economic aspects of international relations, as well as health concerns, such as pandemics. In this SWOT analysis, these disruptions are a threat to the stability of supply chains and, consequently, the stability of Walmart's operations, which depend on importing low-cost goods.
Labor market disruptions are linked to social trends that affect the availability and willingness of people to work for companies, like Walmart. This external factor is a threat that affects the retail company's human resources. In this SWOT analysis, such labor market issues directly relate to the company's capacity to provide its online and brick-and-mortar services to customers. This external strategic factor emphasizes the importance of Walmart's human resource management in maintaining an adequate workforce to support business operations. Also, Walmart's organizational culture or corporate culture can provide support for maintaining an attractive workplace, in order to minimize turnover. Support from the organizational culture can improve job satisfaction and, in turn, stabilize the company's human resources. Furthermore, Walmart's corporate social responsibility strategy is significant in this part of the SWOT analysis. Corporate citizenship and stakeholder management efforts can enhance the company's corporate image and workers' perception about the business.
Recommendations based on this SWOT Analysis of Walmart Inc.
This SWOT analysis shows that Walmart has the business strengths to support growth through e-commerce expansion and international operations, which are opportunities in the global retail industry. However, this SWOT analysis also shows that the company needs to implement new strategies to overcome its weaknesses, such as the limited international presence; and the threats to its retail business, like competition and supply chain disruptions. Based on these internal and external strategic factors, an applicable recommendation is for growing Walmart's e-commerce operations. It is also recommended that the company establish more locations outside its current retail markets. Ultimately, the goal should be to make Walmart a leading retail and e-commerce company that provides its goods and services globally.
References
Benzaghta, M. A., Elwalda, A., Mousa, M. M., Erkan, I., & Rahman, M. (2021). SWOT analysis applications: An integrative literature review. Journal of Global Business Insights, 6(1), 55-73.
Ismail, R. E., & Jokonya, O. (2023). Factors affecting the adoption of emerging technologies in last-mile delivery in the retail industry. Procedia Computer Science, 219, 2084-2092.
Risberg, A. (2023). A systematic literature review on e-commerce logistics: Towards an e-commerce and omni-channel decision framework. The International Review of Retail, Distribution and Consumer Research, 33(1), 67-91.
Taherdoost, H., & Madanchian, M. (2021). Determination of business strategies using SWOT analysis; Planning and managing the organizational resources to enhance growth and profitability. Macro Management & Public Policies, 3(1), 19-22.