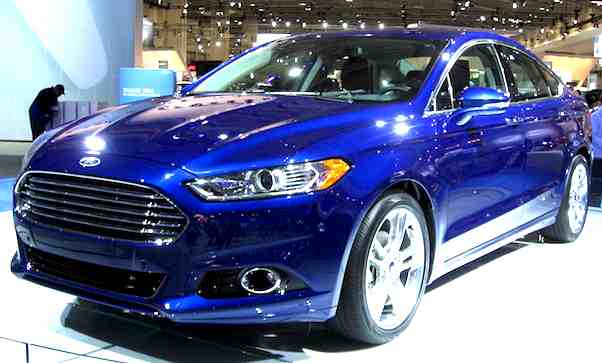 Ford Motor Company's market position as one of the biggest automobile manufacturers in the world is supported through the firm's intensive growth strategies aligned to its generic strategy for competitive advantage. Intensive strategies are used to support organizational growth. In this case, Ford's business growth is dependent on the varying emphases on market penetration, product development, and market development. On the other hand, a generic strategy defines the general approach used for business competitiveness. The automaker's generic strategy changes over time, although its original generic strategy of cost leadership remains influential in the business. Ford's generic strategy and intensive growth strategies determine the approaches to growing its multinational business.
Ford's generic strategy (based on Michael Porter's model) shows the general trajectory of developing the firm's competitive advantages through affordable mobility solutions. These competitive advantages relate to core competencies, such as innovation capability and the other business strengths identified in the SWOT analysis of Ford Motor Company. The generic strategy also enables competitiveness that supports the organizational improvement goals of the intensive strategies for the automaker's business growth in the global automobile market.
Ford's Generic Strategy (Porter's Model)
Ford's generic strategy is differentiation, although the business is still transitioning from its previous generic competitive strategy – cost leadership. Initially, the company's generic strategy was cost leadership. This generic strategy supports business competitive advantage based on cost reduction and the ability to offer competitive prices to attract customers to the company's automobiles. In the early 1900s, Ford's vision was to make its automobiles affordable for working-class Americans. To apply this generic strategy, the firm developed the assembly-line method to minimize costs and maximize productivity. Ford succeeded in attracting customers based on cost leadership as its generic strategy. A strategic objective for competitive advantage based on this generic strategy was cost minimization through process streamlining.
However, cost leadership did not protect Ford from competition. Americans were gaining higher wages and started valuing automobile style and design, and not just low prices. Today, given Ford's mission statement and vision statement, the company still emphasizes the goal of affordability, but has been moving its generic strategy to focus on differentiation for competitive advantage. For example, the company invests in advanced smart technologies for its vehicles. In using broad differentiation as its current generic strategy, Ford effectively competes against other automakers, like Tesla, General Motors, and Toyota. As shown in the Five Forces analysis of Ford, these competitors are aggressive in the automotive market. A strategic objective based on the company's current generic strategy is product innovation to gain stronger competitive advantage that gives the company a leading edge over the innovative automobiles of competitors.
Ford's Intensive Strategies (Intensive Growth Strategies)
Market Penetration. Ford's primary intensive growth strategy is market penetration. Based on the Ansoff Matrix, this intensive strategy entails selling more products to current customers to grow the business. The automotive company applies this intensive growth strategy by increasing the number of its dealerships and increasing sales volume. This intensive growth strategy is linked to the strategic objectives of increasing customer retention and increasing sales. This intensive strategy is also linked to Ford's generic competitive strategy by highlighting the benefits of low costs and increasing differentiation to gain a bigger market share. The competitiveness of price and features of cars are communicated in Ford's marketing mix (4P). In this way, the company's marketing strategy adopts objectives connected to the generic strategy and intensive growth strategies.
Product Development. Ford Motor Company uses product development as its secondary intensive strategy for growth. This intensive growth strategy involves offering new products to increase sales revenues. The automaker applies this intensive strategy through R&D investments for new products, such as all-electric cars. A strategic objective based on this intensive growth strategy is to increase R&D investments for product innovation to improve business growth and competitive advantage. These investments account for social trends favoring electric vehicles and other market trends, such as the ones identified in the PESTEL/PESTLE analysis of Ford. Moreover, product development depends on operational capacities. For instance, Ford's operations management in product design and quality management affect the outcomes of this intensive strategy. Such outcomes, then, influence the realization of the automotive company's competitive advantages based on the generic strategy of differentiation.
Market Development. Market development is only a minor intensive strategy that supports Ford's growth. This intensive growth strategy involves providing existing products to new markets or market segments. The automobile manufacturer already has global operations, which means that market development is not as significant as it has been for the business in its early years. Also, Ford has not taken any significant strategic action to establish new operations and take growth opportunities in entirely new industries or market segments in recent years.
References
Ali, B. J., & Anwar, G. (2021). Porter's Generic Competitive Strategies and its influence on the Competitive Advantage. International Journal of Advanced Engineering, Management and Science, 7(6), 42-51.
Ford Motor Company (2023, May 22) Company Says Ford+ is Maximizing Value for Customers, Improving Business Resilience, Efficiency, Growth, Margins.
Lampón, J. F., & Muñoz-Dueñas, P. (2023). Are sustainable mobility firms reshaping the traditional relationships in the automotive industry value chain? Journal of Cleaner Production, 413, 137522.