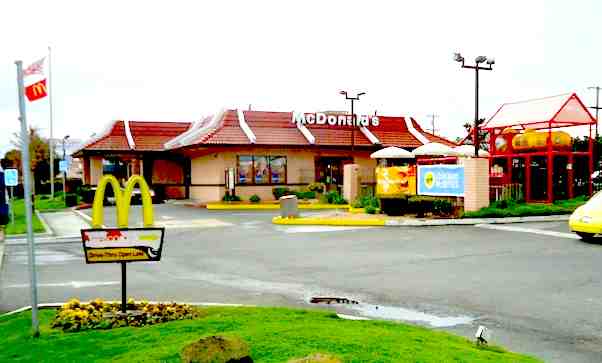 McDonald's corporate mission and vision statements are a response to changes in the global food service industry environment. As the biggest fast-food restaurant chain in the world, the company considers its corporate vision and mission statements as essential policy and strategic management tools to ensure continuous growth. The company's corporate mission statement sets the purpose and related objectives of the restaurant business. In this case, McDonald's mission statement establishes the company as an accessible and enjoyable food service destination. On the other hand, the firm's corporate vision statement sets the long-term aims of the fast-food business. Pertinent to competitive rivalry, McDonald's vision statement pushes the business organization to achieve growth and improvement. Considering major international competitors like Burger King, Wendy's, Subway, Starbucks, and Dunkin', as well as smaller regional or local firms, it is essential that McDonald's develop competencies to strategically manage the effects of competition and to achieve business goals based on the company's mission and vision.
In implementing its corporate mission and vision statements, McDonald's strengthens its core competencies. Such strengthening is a way to protect the fast-food business against the strong force of competitive rivalry. The Porter's Five Forces analysis of McDonald's Corporation shows that competition creates a strong force against the company and in its business environment. The company's corporate vision and mission statements are a direct response to the aggressive and innovative strategies of competitors in the food service industry. In this way, McDonald's expects that its current mission and vision are appropriate to continually growing its multinational operations, despite business challenges linked to competition.
McDonald's Corporate Mission Statement
McDonald's corporate mission is "to make delicious feel-good moments easy for everyone." This mission statement highlights the significance of customers and service quality in maintaining the company as a major option for consumers in their food and beverage purchase decisions. McDonald's corporate mission statement has the following main points:
Delicious food and beverage
Good experiences
Accessibility
Global market reach
In its mission statement, McDonald's Corporation uses the word, "delicious," to represent the desirability of its products. Applicable to recipes used for menu items, this point of the corporate mission emphasizes effective product development as a success factor in attracting diners to the company's food and beverage products. The second point is based on the term, "feel good moments," included in McDonald's corporate mission statement. This point emphasizes positive dining experiences for customers. Such good experiences encourage customers to keep coming back to the company's fast-food restaurants. In relation, the mission statement's third point focuses on the ease (accessibility, convenience, and affordability) of purchasing McDonald's products. This ease factor contributes to consumers' likelihood of buying the company's foods and beverages. McDonald's operations management strategy and productivity affect how the business satisfies such ease criterion. In the fourth point of the corporate mission statement, "everyone" pertains to targeting the global food service market. This means that McDonald's considers every person a target customer, similar to the emphasis on worldwide operations in the restaurant chain's corporate vision statement. This part of the corporate mission requires support from the company's marketing strategies and tactics to capture customers from the international fast-food market. Such support is observable in McDonald's marketing mix or 4P.
McDonald's Corporate Vision Statement
McDonald's corporate vision is "to move with velocity to drive profitable growth and become an even better McDonald's serving more customers delicious food each day around the world." This statement is included in the growth plan that the company introduced in 2017. The restaurant chain's previous vision statement was "Our overall vision is for McDonald's to become a modern, progressive burger company delivering a contemporary customer experience." The following are the main components of the company's current corporate vision statement:
Move with velocity to drive profitable growth
Become an even better McDonald's
Serve more customers delicious food each day around the world
The first and third components of McDonald's vision statement show that the business aims to grow and expand its operations. This strategic aim entails opening more restaurant locations and improving operational efficiency to optimize profit margins and profitability. With the phrase, "around the world," the corporate vision indicates that the fast-food business targets the global market, similar to the global market reach emphasized in the corporate mission statement. McDonald's generic competitive strategy and intensive growth strategies support such international growth and expansion objective embodied in the corporate vision statement. The second component focuses on improving the restaurant business, although the company does not state the type of improvement in the corporate vision. However, McDonald's may implement comprehensive business improvements in line with the vision statement, including product development, marketing, franchising, and human resource development. In following this corporate vision statement, the company expects growth and enhancement of the fast-food restaurant chain business and its multinational operations.
Improvement Recommendations for McDonald's Corporate Vision & Corporate Mission
McDonald's mission statement satisfies many of the criteria for developing the best mission statements. For example, the company includes product quality (delicious) and part of its business philosophy and self-concept (a provider of feel-good moments) in its corporate mission. McDonald's also includes information about its target consumers (everyone). However, details about the restaurant business stakeholders (employees and others), product characteristics, and the nature of business operations are not satisfactorily included. Even though the corporate mission statement agrees well with the corporate vision statement, McDonald's can improve this corporate mission by including such additional information about stakeholders, products, and business operations. This recommendation aims to make it easier to implement the corporate mission statement in all areas of the fast-food business organization and its network of franchised and licensed locations.
McDonald's vision statement is strong in satisfying the criteria for developing ideal vision statements. The food service company's corporate vision is clear, concise, and focused on the future. Such future-oriented characteristic adds stability to the corporate vision statement, especially in terms of its applicability in the future operations of McDonald's business. Also, the emphasis on becoming an even better business organization makes the corporate vision challenging and inspiring, which are characteristics that help motivate employees to contribute more to further improve the restaurant company. These characteristics make McDonald's corporate vision statement satisfactory. Still, a suitable improvement would be to include information about how the company can make itself better, in order to better inform the application of the corporate mission statement, and to effectively guide current and future strategies and management approaches used in the food service firm.
References
Abiodun, A. J. (2010). Interface between corporate vision, mission and production and operations management. Global Journal of Management and Business Research, 10(2), 18-22.
Berbegal-Mirabent, J., Mas-Machuca, M., & Guix, P. (2021). Impact of mission statement components on social enterprises' performance. Review of Managerial Science, 15(3), 705-724.
D'Urso, S. C. (2018). Towards the final frontier: Using strategic communication activities to engage the latent public as a key stakeholder in a corporate mission. International Journal of Strategic Communication, 12(3), 288-307.
Kirkpatrick, S. A. (2017). Toward a grounded theory: A qualitative study of vision statement development. Journal of Management Policy and Practice, 18(1), 87-101.
Lin, Q., Zhu, Y., & Zhang, Y. (2020). How does mission statement relate to the pursuit of food safety certification by food companies? International Journal of Environmental Research and Public Health, 17(13), 4735.
Martinčić, S. G. (2018). Identification of the elements for the creation of corporate vision. International Journal Vallis Aurea, 4(1), 49-58.
Pace, S. (2017). Shaping corporate brands: From product features to corporate mission. International Studies of Management & Organization, 47(2), 197-205.
Reid, S. E., & Crawford, C. B. (2022). Crafting the vision statement. In Entrepreneurial Vision (pp. 263-276). Springer, Cham.