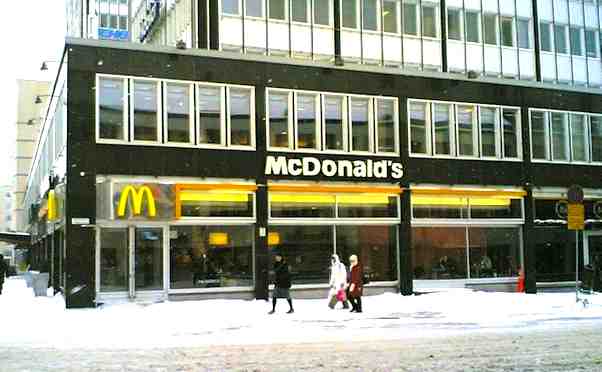 This SWOT analysis of McDonald's Corporation illustrates the benefits of having a leading industry position and a dominant presence in the global market. However, the fast-food company needs to account for the combined effect of its strengths, weaknesses, opportunities, and threats (SWOT) on its strategies, to optimize success in the face of cutthroat competition. McDonald's generic strategy for competitive advantage, and intensive growth strategies align with the SWOT factors. Considering the restaurant company's leading market position, these strategies are suited to the issues raised in the internal analysis (strengths and weaknesses) and external analysis (opportunities and threats) components of this SWOT analysis. Also, these strategies are major contributors to the fulfillment of McDonald's corporate mission statement and corporate vision statement. Thus, the company serves as an example of how a food service business can succeed by developing operations while resolving the issues brought to light through a SWOT analysis.
Insights from this SWOT analysis explain McDonald's current strategic decisions. The internal factors examined in this case influence the company's capabilities and growth in its target markets for food and beverage products and for food service. On the other hand, the external factors determine limits and challenges that McDonald's must overcome in order to succeed in these markets. Thus, this SWOT analysis describes the business condition and external environment of the restaurant company.
McDonald's Strengths (Internal Strategic Factors)
McDonald's strengths make it a leading contender in the fast-food restaurant market. This aspect of the SWOT analysis shows the internal factors that contribute to the fast-food company's organizational viability. McDonald's strengths are as follows:
Internationally recognized brand and name
High consistency of goods and services based on standardized processes
Large network of business locations
McDonald's brand and name are easily recognized internationally. This internal strategic factor is a strength in this SWOT analysis, indicating the benefits of the brand and name in supporting the company's success, such as in introducing new burger products. McDonald's also has the strength of high consistency in its products. For example, the ordering process and most of the company's food and beverage products are the same or highly similar across different regions. McDonald's organizational culture or corporate culture contributes to such consistency, especially in terms of quality. Another strength noted in this SWOT analysis is the company's large network of locations for its restaurants and kiosks. This internal factor strengthens the food service business in terms of revenues, as well as visibility and brand recall among target consumers. In relation to the network of locations pertinent to this SWOT analysis, McDonald's applies marketing strategies that maximize the utility of available technologies and third-party services. For example, the company's mobile apps are available through the app stores of Apple and Google, making its fast-food products easily accessible to consumers who use mobile devices, such as Samsung smartphones. Moreover, McDonald's presence on platforms like Facebook facilitates communication with target consumers. These technological efforts are part of the fast-food chain's strategy for the strength of its network of business locations included in this SWOT analysis.
Weaknesses (Internal Strategic Factors)
McDonald's weaknesses are linked to market focus, products, and processes. This aspect of the SWOT analysis indicates the internal factors that limit the restaurant company's performance and success. McDonald's weaknesses are as follows:
Insignificant degree of vertical integration
Imitable characteristics of processes, and food and beverage products
Limited product design flexibility that comes with standardization
McDonald's Corporation focuses on the preparation and serving of food and drinks. In this SWOT analysis, such focus comes with the weakness of the insignificant degree of vertical integration. For instance, the company does not produce its own raw ingredients. The SWOT analysis model considers this internal strategic factor as a weakness because it enables suppliers to significantly influence McDonald's. On the other hand, competitors can imitate the company's products and business processes, such as burgers and drinks, employee training programs, and the food preparation processes at restaurants. This internal factor contributes to competitive pressure on the fast-food chain business. In addition, McDonald's has the weakness of limited product design flexibility that comes with standardization, which is one of the strengths noted in this SWOT analysis. For example, the standardized recipes of many of the company's food products weaken the ability to satisfy regional food preferences. This weakness stands, even though the company has customized its menu for some countries, like India. Addressing this weakness requires corresponding adjustments to McDonald's operations management programs and approaches for standardization.
Opportunities for McDonald's (External Strategic Factors)
McDonald's opportunities are linked to its product mix, multinational operations, and connections with other businesses. This aspect of the SWOT analysis points to the external factors that support the food service company's business growth. McDonald's opportunities are as follows:
New programs to strengthen suppliers and stabilize supply chains
Acquisition of firms for vertical integration to include production of raw materials
Growth in consumer goods operations
McDonald's Corporation has the opportunity to implement new programs to strengthen suppliers and ensure the stability of the company's supply chains. This external strategic factor addresses supply disruption, which is included as a threat in this SWOT analysis of the fast-food business. In relation, McDonald's can gradually achieve vertical integration by acquiring firms related to its current business. For example, the company can acquire firms that process flour. In this way, the company can increase its control of the supply chain, while also reducing risks involving unpredictability in the supply of such raw ingredients. This opportunity addresses the weakness of insignificant vertical integration and the threat of supply chain disruption, which are issues identified in this SWOT analysis of McDonald's Corporation.
Consumer goods represent only a small portion of McDonald's business, considering that the company focuses mainly on food service. However, growth in consumer goods operations is considered an opportunity in this SWOT analysis. The company's McCafé goods are doing well, indicating that the company can further grow its consumer goods business. McDonald's marketing mix or 4Ps can support consumer goods operations along with product design and development. This external factor also points to the benefit of strategic partnerships to boost the sales of consumer goods through retailers and related platforms, such as Walmart, Home Depot, Costco, Target, and Amazon. These sellers and platforms currently offer McCafé products and can facilitate the sales of new consumer goods from McDonald's. The resulting growth in the consumer goods business can increase the company's revenues while capitalizing on the brand strength identified in this SWOT analysis. The design of McDonald's organizational structure or corporate structure affects the direction of new consumer goods operations.
Threats in the Fast-Food Industry (External Strategic Factors)
The threats to McDonald's are based on competitive rivalry, sociocultural trends, and economic conditions. This aspect of the SWOT analysis deals with the external strategic factors that limit the fast-food company's business development. The main threats to McDonald's business are as follows:
Aggressive competition with other fast-food firms
Healthy lifestyle trends
Food supply disruptions
Aggressive food service competitors threaten McDonald's and impose a major strategic challenge in this SWOT analysis. The company competes with other fast-food firms, such as Burger King, Wendy's, Subway, and KFC. McDonald's food and coffee business also competes with Starbucks, Dunkin', and Tim Hortons. These food service companies maintain a strong external force of competition. Furthermore, PepsiCo's beverages and Unilever's Bru coffee intensify the competition with McCafé merchandise. The Porter's Five Forces analysis of McDonald's Corporation determines that this competitive force strongly affects the company.
Healthy lifestyle trends are also a threat in this SWOT analysis. This external strategic factor refers to sociocultural movements that discourage consumers from eating fast food, such as McDonald's. This trend emphasizes the importance of product development to satisfy evolving food preferences. The PESTEL/PESTLE analysis of McDonald's Corporation reflects such a social trend affecting the food service industry. The company already has some programs testing the business potential of vegetarian burgers, but this SWOT analysis views the external factor a threat because such programs have a limited rollout scope. Additional efforts for addressing this threat can contribute to the success of McDonald's corporate social responsibility strategies in satisfying stakeholders, including consumers.
This SWOT analysis also includes food supply disruptions as a threat to the fast-food restaurant chain. McDonald's stability depends on the stability of food supply, which relates to the stability of the agricultural sector. Pandemics and other crises can weaken food supply and, as a result, threaten the food service business. Thus, this SWOT analysis highlights the importance of strategies for ensuring the reliability of the company's supply chain and its access to input materials for the restaurant business.
Insights and Recommendations – SWOT Analysis of McDonald's Corporation
A number of threats and opportunities are shown in this SWOT analysis, pointing to potential improvements to McDonald's business. The company suffers from the weakness of low or insignificant vertical integration, and faces threats, such as healthy lifestyle trends and supply chain disruptions. However, these issues come with opportunities for improving McDonald's. For example, this SWOT analysis shows the business opportunity for vertical integration, which can support the stability of the supply of food and raw ingredients. Also, the company can offer improved products, such as better burgers, to satisfy consumers' concerns about the health effects of fast food. Moreover, this SWOT analysis indicates the recommendation for increasing McDonald's consumer goods operations through the support of the strength of brand popularity to encourage customers to buy new consumer goods from the company.
References
Benzaghta, M. A., Elwalda, A., Mousa, M. M., Erkan, I., & Rahman, M. (2021). SWOT analysis applications: An integrative literature review. Journal of Global Business Insights, 6(1), 55-73.
Kurmanalina, A., Bimbetova, B., Omarova, A., Kaiyrgaliyeva, M., Bekbusinova, G., Saimova, S., & Saparaliyev, D. (2020). A SWOT analysis of factors influencing the development of agriculture sector and agribusiness entrepreneurship. Academy of Entrepreneurship Journal, 26(1), 1-8.
Puyt, R., Lie, F. B., De Graaf, F. J., & Wilderom, C. P. (2020). Origins of SWOT analysis. In Academy of Management Proceedings (Vol. 2020, No. 1, p. 17416). Briarcliff Manor, NY 10510: Academy of Management.
U.S. Department of Commerce – International Trade Administration – Travel, Tourism & Hospitality Industry.
Utama, A. G. S., Kumar, N., Wen, S. J., Kee, D. M. H., Er, T. M., Xin, T. P., … & Ganatra, V. (2020). Factors influencing consumer behaviour: A case of McDonald's. Advances in Global Economics and Business Journal, 1(2), 55-64.