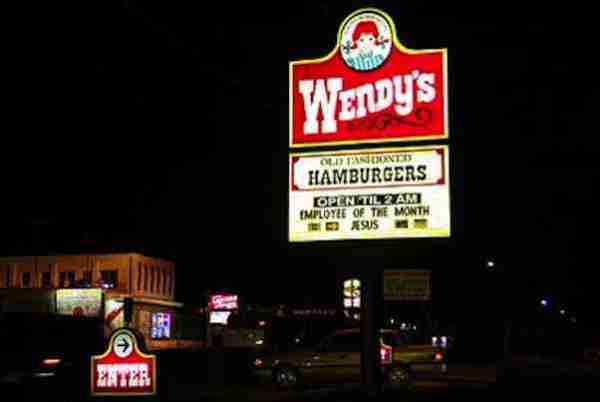 Wendy's generic competitive strategy (based on Michael Porter's model) is similar to those of other fast food companies like McDonald's and Burger King. However, Wendy's differentiates its business and products from competitors through product innovation that addresses market and consumer trends. In addition, Wendy's generic strategy builds competitive advantage for the company to implement its intensive growth strategies. While these intensive strategies support growth, high quality remains at the core of the business, based Wendy's mission statement and vision statement. The interactions among these strategies and their strategic objectives influence Wendy's ability to grow internationally, especially while facing competition involving other large firms like McDonald's and Burger King.
Wendy's generic competitive strategy (based on Porter's model) supports global competitiveness. The corresponding intensive strategies and strategic objectives enable Wendy's international growth and expansion.
Wendy's Generic Strategy (Porter's Model)
Wendy's generic strategy for competitive advantage is based on the general approach of firms in the global fast food restaurant industry. This approach emphasizes cost minimization. However, Wendy's uses the following combination of generic competitive strategies:
Cost leadership
Differentiation
Cost leadership is Wendy's main generic competitive strategy. According to Porter's model, cost minimization and price minimization are the main concerns in this generic strategy. For example, in 1988, Wendy's was the first fast food restaurant chain to use a single price-point for its menu at 99¢ for every item. The company continues to minimize its prices to effectively compete against the low prices of other firms in the market.
Differentiation is Wendy's secondary generic strategy for competitive advantage. Product uniqueness is among the main emphases in this generic strategy. For example, Wendy's promotes its square-shaped fresh ground beef patties that are significantly bigger than those of McDonald's and other fast food hamburger chains. Wendy's array of salad menu items also sets the company apart from competitors in terms of health concerns. Such endeavors manifest the differentiation generic strategy for Wendy's competitive advantage.
A strategic objective based on the cost leadership generic strategy is to standardize all of Wendy's business processes to minimize costs through economies of scale. The resulting cost savings lead to competitive advantage. Also, based on Wendy's generic strategy of differentiation, a strategic objective is to implement continuous product innovation. Innovation creates competitive advantage through superior quality products that Wendy's offers.
Wendy's Intensive Strategies (Intensive Growth Strategies)
Market Penetration. Wendy's primary intensive growth strategy is market penetration. In this intensive strategy, the company grows through more sales to more consumers in the same markets where it currently operates. For example, Wendy's uses marketing and establishes more restaurants to attract more consumers. In applying this intensive strategy, the generic strategy of cost leadership enables Wendy's to use affordable prices to attract more customers. Also, the quality focus in its mission and vision statements enables Wendy's to use quality as a selling point to more consumers. A strategic objective linked to the market penetration intensive strategy is to grow Wendy's through low-cost expansion alongside economies of scale.
Market Development. Wendy's applies market development as its secondary intensive strategy for growth. Entry into new markets is the objective in this intensive strategy. For example, the company grows by entering new countries through franchising, such as new franchise agreements for new operations in India. However, this is just a secondary intensive growth strategy because Wendy's rate of entry to new countries is relatively slow. The cost leadership generic strategy supports this intensive strategy by enabling Wendy's to use low costs and prices to expand and reach more customers. This intensive strategy leads to the strategic objective of expanding Wendy's supply chain to support new market entry.
Product Development. Wendy's rate of product development is relatively low. Thus, product development is only a supporting intensive growth strategy for the company. In this intensive strategy, Wendy's grows through new products to attract even more consumers. For example, in 1979, the company introduced the salad bar. Also, new products and variants were introduced through the years. The differentiation generic strategy supports this intensive growth strategy by emphasizing product innovation. Thus, product innovation is one of Wendy's strategic objectives for this intensive growth strategy.
References
Gargasas, A., & Mugiene, I. (2012). Intensive growth strategy development trends in logistics services for agricultural organization providing companies. Management Theory and Studies for Rural Business and Infrastructure Development, 34(5), 47-53.
Merchant, H. (2014). Configurations of governance structure, generic strategy, and firm size. Global Strategy Journal, 4(4), 292-309.
Miller, D. (1992). The generic strategy trap. Journal of Business Strategy, 13(1), 37-41.
Parnell, J. A. (1997). New evidence in the generic strategy and business performance debate: A research note. British Journal of Management, 8(2), 175-181.
Varadarajan, P., & Dillon, W. R. (1982). Intensive growth strategies: A closer examination. Journal of Business Research, 10(4), 503-522.