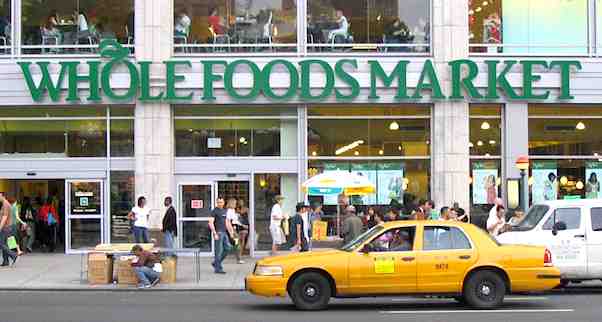 Whole Foods Market's organizational culture is a critical factor in the firm's success. The organizational culture or corporate culture influences every aspect of the retail business and relates to the cultural qualities of the company's parent, Amazon. In this case, the corporate culture contributes to the strength of the 365 brand and reinforces business strengths, like those enumerated in the SWOT analysis of Whole Foods Market. The company is popular not just because of its quality products, but also because of its corporate culture, which is observable at its stores. Whole Foods' leaders continue to emphasize the company's organizational culture as a foundation for business growth and strength.
Whole Foods Market's organizational culture is an example of how a company can use its culture as a contributor to competitiveness. In this case, the corporate culture strengthens the retail company against competitors, such as Trader Joe's, Sprouts Farmers Market, Walmart, Costco, Target, Aldi, and Kroger, as well as discount store chains, like Dollar Tree.
Whole Foods' Organizational Culture Characteristics
Whole Foods Market's organizational culture focuses on teams. However, the company also maintains other cultural variables that contribute to effective human resources and the profitability of the grocery store business. The most important characteristics of Whole Foods' organizational culture are as follows:
Focus on teams
Participation
Semi-formal interactions
Transparency
Focus on teams. Whole Foods' organizational culture is noted for its emphasis on teamwork. Every level of the organization has teams. This team-based cultural development reflects the use of teams in Whole Foods' organizational structure or corporate structure. This feature of the corporate culture enables the health food store company to optimize employee morale and reduce turnover. Involvement in teams encourages a sense of belonging among workers and enhances morale, perception about the company, and job satisfaction, which are important to the retail business. This factor is based on the retailer's core values, which promote growth and happiness among team members. Thus, the company's corporate culture contributes to human resource resilience. This resilience relates to the area of job design in operations management at Whole Foods.
Participation. Whole Foods Market supports employee participation in the context of its organizational culture. For example, in the company's hiring process, employees participate in selecting their teams. In addition, the corporate culture encourages social gatherings that reinforce Whole Foods Market's corporate mission statement and corporate vision statement. The retail company also motivates employees to get involved in the activities of its various foundations. This characteristic of Whole Foods' organizational culture enhances cohesive behavior and morale among workers.
Semi-formal interactions. Whole Foods Market is known for semi-formal interactions at its stores. This feature of the company's organizational culture is observable in the lively and meaningful conversations employees have with each other and with shoppers. Whole Foods also maintains onboarding programs where new hires build social relations with other employees. This characteristic of the corporate culture supports rapport among the retailer's workers and customers.
Transparency. Whole Foods' organizational culture integrates the principle of transparency. The company keeps investors, employees, and other stakeholders informed about the situation of the retail business. This quality of the corporate culture supports efforts for stakeholder management as part of Whole Foods' corporate social responsibility strategy. This characteristic of the organizational culture strengthens workers' appreciation of the business and motivates them for higher productivity that makes the retail business profitable.
Key Points – Whole Foods' Corporate Culture
Whole Foods Market's organizational culture is one of the most distinct characteristics of the business. Cultural characteristics influence all areas of the organization, including teams at the company's offices and grocery stores. The company uses its corporate culture to provide quality retail and e-commerce services and to strengthen human resource management effectiveness. Teamwork and participation build morale and motivation to enable the retailer to maximize the contributions of its people to business performance. Whole Foods successfully uses its company culture to develop its human resources, strengthen its brand, provide quality service, and achieve its corporate citizenship goals.
References
Assoratgoon, W., & Kantabutra, S. (2023). Toward a sustainability organizational culture model. Journal of Cleaner Production, 400, 136666.
Herget, J. (2023). Challenges to Corporate Culture: Today and Tomorrow. In Shaping Corporate Culture: For Sustainable Business Success (pp. 149-157). Berlin, Heidelberg: Springer Berlin Heidelberg.
Zhang, W., Zeng, X., Liang, H., Xue, Y., & Cao, X. (2023). Understanding how organizational culture affects innovation performance: A management context perspective. Sustainability, 15(8), 6644.