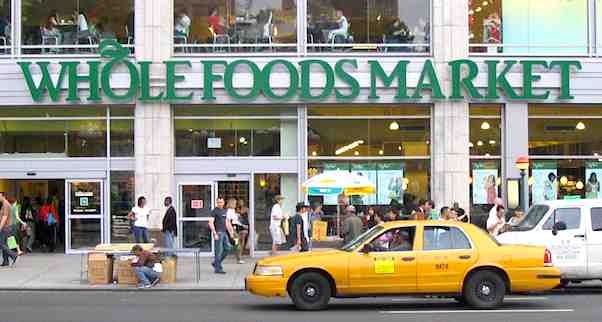 Whole Foods Market's marketing mix or 4P (Product, Price, Place, Promotion) specifies the strategies and tactics for reaching target customers and generating revenues. The health food market grows with consumer demand and concerns about health, diet, and nutrition. Through its marketing mix, Whole Foods addresses such concerns. For instance, the company's product standards help satisfy consumers' dietary requirements. This marketing mix is based on Whole Foods Market's corporate mission statement and corporate vision statement, which prioritize quality and nourishment for consumers. In the marketing plan, the company's 4Ps exploit business opportunities linked to health concerns about food and beauty products. In this regard, the marketing mix implementation depends on Whole Foods Market's operations management, which affects supply chain management efficiency for optimal costs and prices.
Whole Foods Market's current market position is that of a retailer of health foods and related products, targeting consumers who prefer healthy options and specific qualities, such as non-GMO or organic. The company's marketing mix emphasizes products' health benefits. Based on this market position, Whole Foods' target market is the niche market composed of customers who are health-conscious about the products they eat or use. These consumers are the audience of the company's marketing strategies and tactics. The company's marketing creates value by cooperating with suppliers and providing health products at its grocery stores.
Whole Foods' Products (Product Mix)
Whole Foods' products are health foods and related merchandise with premium branding. This element of the marketing mix considers the company's product specifications, including quality, GMO status, and organic labeling. The marketing team uses this 4P element to emphasize the competitive advantage of such products in contrast to common food products from other retailers. The following product categories are in this element of Whole Foods' marketing mix:
Food and beverage
Supplements
Flowers
General merchandise
This product mix is a result of Whole Foods' generic competitive strategy and intensive growth strategies, which focus on healthy options to compete against large retailers. Through this marketing-mix element, the company is different because of its focus on high-quality and health-promoting products for consumers with special dietary preferences or needs, in contrast to many firms that compete based on low prices. The 365 brand targets consumers looking for affordable alternatives to the other brands that are also in the company's grocery stores. This element of the marketing mix reflects a business model that capitalizes on healthy lifestyles and the related trends identified in the PESTEL/PESTLE analysis of Whole Foods Market. For example, the company offers food products labeled organic, dairy-free, vegan, paleo-friendly, gluten-free, low-sodium, low-fat, and keto-friendly. To address quality requirements in this 4P element, Whole Foods' corporate culture or organizational culture provides the framework for human resource support for quality standards and quality control in the business.
Prices and Pricing Strategies in Whole Foods Market's 4P
Whole Foods Market uses a premium pricing strategy for this part of the marketing mix. The company's merchandise is more expensive than competitors' products partly because of this pricing strategy. The higher prices are also based on the company's selective but wide-ranging access to suppliers that satisfy high standards for food and related products. This element of the marketing mix matches Whole Foods' premium brand image.
Pricing decisions in this marketing mix are partly based on market saturation and the strong competition noted in the Five Forces analysis of Whole Foods Market using Porter's model. The company's main competitors are Trader Joe's and Sprouts Farmers Market, as well as big-box retailers that compete based on low prices, like Walmart, Target, Costco, and Kroger. Also, 7-Eleven and Dollar Tree compete based on convenience, accessibility, or price. This competitive landscape affects prices and justifies Whole Foods' premium pricing in this 4P element, for the company's target niche market or market segment.
Place or Distribution in the Marketing Mix
Whole Foods Market's location strategy is multi-pronged. The strategic objectives in this element of the marketing mix focus on optimizing access to and for shoppers, with considerations for transport, warehousing, and logistics. The company's marketing strategy combines brick-and-mortar operations with e-commerce operations to maximize market reach. Whole Foods' marketing mix has the following locations for its distribution strategy:
Grocery stores (brick-and-mortar)
E-commerce sites and mobile app
Third-party delivery service providers
Whole Foods Market operates many locations in the United States, and some in Canada and the United Kingdom. The brick-and-mortar grocery stores provide direct access to goods, and function as pick-up locations for certain online orders. Also, in the United States and Canada, customers can order on Amazon, Whole Foods' parent company. In the United Kingdom, customers can order on Deliveroo, a third-party delivery service provider. For this marketing-mix element, Whole Foods ensures consistency in customer experience in brick-and-mortar and e-commerce services. This combination of online and brick-and-mortar operations also addresses competitive pressure in the retail industry. Such pressure involves information technology trends in retail business. In addition, marketing strategy and related strategic planning and management decisions account for the geographic locations or places of the health food stores. Whole Foods Market's organizational structure or corporate structure relates to the geographic aspect of this element of the marketing mix.
Whole Foods' Promotion (Promotional Mix)
Whole Foods Market's promotional activities depend on industry conditions and the time of the year. This element of the marketing mix is also known as the marketing communications mix and deals with the company's communications with its target market of shoppers and consumers. Whole Foods Market's promotional mix has the following main activities:
Advertising
Sales promotions
Public relations
Advertisements are the most prominent of promotions in Whole Foods' marketing mix or 4Ps. Advertising campaigns satisfy the visibility objectives of the retail company's marketing strategy. On the other hand, sales promotions are occasionally provided in the form of discounts during Black Friday and other times of the year. The success of these promotional activities is supported through the business strengths identified in the SWOT analysis of Whole Foods Market. In public relations, the company has a significant presence on Alphabet's (Google's) YouTube and on Meta's Facebook, to easily communicate with customers. Also, public relations involving community programs, like the Community Giving program and the Whole Planet Foundation, enhance Whole Foods' brand image by presenting it as a socially responsible business. Considering its impact on the community, this element of the marketing mix relates to Whole Foods Market's corporate social responsibility strategy and stakeholder management initiatives.
References
Ahmed, R. R., Streimikiene, D., Qadir, H., & Streimikis, J. (2022). Effect of green marketing mix, green customer value, and attitude on green purchase intention: Evidence from the USA. Environmental Science and Pollution Research, 30(5), 11473-11495.
Demirbag-Kaplan, M., & Cavusoglu, L. (2022, June). Reassessing the Marketing Mix Through the Lens of Digitalization. In Advances in Digital Marketing and eCommerce: Third International Conference, 2022 (pp. 36-41). Cham: Springer International Publishing.
Narayanaswamy, R., & Heiens, R. A. (2022). Finding the optimal social media marketing mix to drive customer attraction and sales performance: An exploratory study. International Journal of Electronic Marketing and Retailing, 13(1), 65-82.
Wichmann, J. R., Uppal, A., Sharma, A., & Dekimpe, M. G. (2022). A global perspective on the marketing mix across time and space. International Journal of Research in Marketing, 39(2), 502-521.