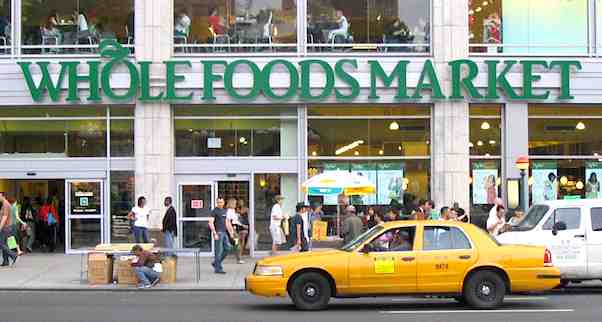 Whole Foods Market (WFM) operates in the retail industry and offers groceries and health food products at its stores. As a grocery store, the company offers organic produce and related natural products. As a health food store, Whole Foods Market offers minimally processed foods that do not contain artificial ingredients, such as artificial flavors, colors, and preservatives. In 2017, the company became a subsidiary of Amazon (See: Five Forces Analysis of Amazon and PESTLE/PESTEL Analysis of Amazon). Whole Foods Market is known for its strict standards for food quality. Quality standards are also applied for the personal care products available at the company's stores. Whole Foods Market has one of the strongest brands in the industry.
For long-term success, Whole Foods Market addresses the external factors in its remote environment, industry environment, and operating environment. These external factors relate to the opportunities and threats identified in the SWOT analysis of Whole Foods Market. These factors are beyond the direct control of the company but have significant consequences on its business operations.
Whole Foods Market PESTEL Analysis (Remote Environment)
Political Factors. Whole Foods Market addresses the political factors of environmental and consumer safety policies in the remote business environment. Environmental policies favor Whole Foods Market because the company already has environmentally sound standards. These standards also agree with consumer safety policies. However, a consequence of changing consumer safety policies is the increased pressure for the company to ensure the safety of products coming from its suppliers.
Economic Factors. The economic factors in the remote environment of Whole Foods Market include changes in household incomes and changes in transportation costs. In general, household incomes are improving. However, the company faces challenges because of higher spending on transporting its goods. A consequence of the higher household income is the higher demand for consumer goods and other merchandise from Whole Foods and other retailers, like Walmart, Costco, and Home Depot. A consequence of higher transportation costs is the higher operating costs of Whole Foods.
Social Factors. Whole Foods Market addresses the social factors in its remote environment. Notable factors are the healthy lifestyle trend and the rural-to-urban population shift. A consequence of the healthy lifestyle trend is the increased demand for organic and natural products available from companies like Whole Foods Market. Similarly, a consequence of the rural-to-urban population shift is the increased demand for organic and natural products from the company. People in urban areas are less likely to plant and harvest their own organic and natural produce, compared to people in rural areas.
Technological Factors. In its remote environment, Whole Foods Market is under the influence of technological factors, including technological advancement in food production and the automation of inventory management. A consequence of the technological changes in food production is the higher efficiency and yield of organic and natural farming. This condition leads to improved reliability of the retail company's supply chain. In relation, a consequence of the automation of inventory management is an increase in the operational efficiency of Whole Foods Market.
Ecological Factors. The main ecological factor that impacts Whole Foods Market in its remote environment is climate change. Climate change has the potential to reduce the yield of organic and natural farming. A consequence of this condition is the potential reduction of the supply available to Whole Foods stores.
Legal Factors. Whole Foods Market addresses legal factors in its remote environment. For example, the US Department of Agriculture enforces regulations, monitoring, and evaluations of food production and sale. These regulations affect the company because it is a seller of produce and related food products. Labor laws also influence the firm, although these laws change infrequently. The main consequence of these legal factors is the higher cost of business operations, as Whole Foods Market must spend funds for compliance.
Whole Foods Market Five Forces Analysis (Industry Environment)
Supplier Power. Supplier power has a moderate effect on Whole Foods Market. For example, the capacity of suppliers of organic produce influences the company. Also, major suppliers and their distributors, such as United Natural Foods, Inc. (UNFI), can impose price changes that affect the prices of goods at Whole Foods stores.
Buyer Power. Buyer power is strong in impacting Whole Foods Market because buyers can easily choose to purchase products from other companies. A significant shift to other providers of organic and natural foods, like Trader Joe's and Sprouts Farmers Market, can reduce the revenues and organizational performance of Whole Foods.
Competitive Rivalry. Competitive rivalry is strong in influencing Whole Foods Market. The grocery and health food store chain has many competitors, including Walmart and Costco, as well as Home Depot, which sells a limited selection of food products. In general, retail is a saturated market. Also, competition among providers of organic and natural products is increasing.
Threat of Substitutes. Whole Foods Market addresses the strong force of the threat of substitutes. There are many substitutes, such as non-organic foods or products that contain artificial ingredients. Using the company's standards, most food products in the market today are not organic or natural. Still, consumers can easily buy these non-organic or non-natural products instead of the ones available at Whole Foods stores.
Threat of New Entrants. The threat of new entry is also strong in affecting Whole Foods Market. It is relatively easy for new companies to get established in the industry. Even small grocery stores or health food stores have a significant opportunity to grow and compete against the company.
Whole Foods Market Operating Environment
Creditor and Supplier Relationship. Suppliers of organic foods provide products to Whole Foods Market with a financial cushion or buffer. These suppliers use partial financing to fill the shelves of new WFM stores. The creditor-supplier relationship in this case benefits the company. This condition increases the company's flexibility and organizational capacity for growth.
Competitive Position. There are many grocery stores and health food stores in the market. However, only a few major players match the capacity of Whole Foods in offering an extensive supply of organic and natural products in different categories. This condition makes the company a major player in the industry. The firm has one of the top competitive positions in providing organic and natural food products. This competitive position supports the achievement of strategic goals based on Whole Foods Market's mission statement and vision statement.
Customer Profile. Many consumers are increasing their consumption of organic foods. In general, all market segments are experiencing an increasing level of demand for organic and natural products. A consequence of this customer profile is the higher opportunity for Whole Foods Market to grow its revenues.
Human Resources. Whole Foods Market does not require highly skilled workers. The labor market is sufficient in supporting the human resource needs of the company. A consequence of this condition is the adequate human resource support for the retail firm's growth and business expansion goals.
References
Carrión Bósquez, N. G., Arias-Bolzmann, L. G., & Martínez Quiroz, A. K. (2023). The influence of price and availability on university millennials' organic food product purchase intention. British Food Journal, 125(2), 536-550.
Martinez-Contreras, R. M., Hernandez-Mora, N. C., Vargas-Leguizamon, Y. R., & Borja-Barrera, S. M. (2022). PESTEL Analysis and the Porter's Five Forces: An Integrated Model of Strategic Sectors. In Handbook of Research on Organizational Sustainability in Turbulent Economies (pp. 292-314). IGI Global.
Parashar, S., Singh, S., & Sood, G. (2023). Examining the role of health consciousness, environmental awareness and intention on purchase of organic food: A moderated model of attitude. Journal of Cleaner Production, 386, 135553.
Risberg, A. (2023). A systematic literature review on e-commerce logistics: Towards an e-commerce and omni-channel decision framework. The International Review of Retail, Distribution and Consumer Research, 33(1), 67-91.