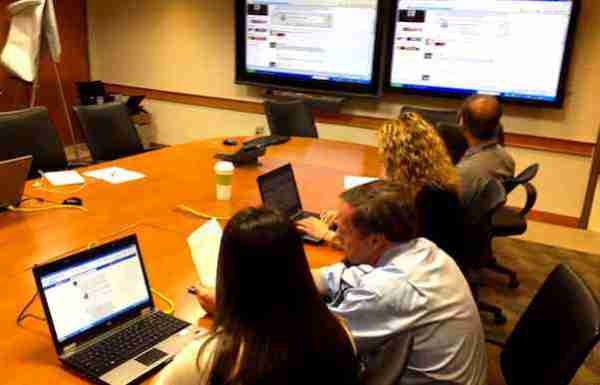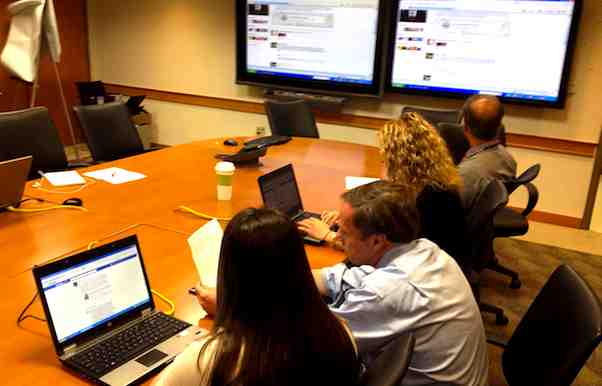 Facebook's organizational structure is a variation of the traditional organizational structure of businesses. The company's structure is adapted to suit the needs of operations involving information technology and the Internet. A company's organizational or corporate structure defines the composition and design of the organization to meet its needs. Firms have different corporate structures based on the nature and goals of their businesses. In this business analysis case of Facebook Inc., the corporate structure is a response to the dynamics of the global online social media market. The nature and characteristics of the company's social networking website and apps, and business goals (see Facebook Inc.'s Corporate Vision and Mission Statements) partly dictate the company's needs. These needs are translated to the features of the organizational structure that Facebook Inc. uses to support its business. The appropriateness of the corporate structure facilitates the company's growth and development.
Facebook Inc. has an organizational structure that enables the social media business to expand and diversify. This corporate structure also yields competitive advantage to make the company's online social network resilient against competition. Even though the Porter's Five Forces analysis of Facebook Inc. shows that the force of competition is moderate, measures are needed to address the aggressiveness of competitors in the international online advertising market. These competitors include Google LLC, Snap Inc. (Snapchat), and Twitter Inc. Facebook must continue enhancing its corporate structure to counteract the negative effects of competition.
Facebook's Organizational Structure & Its Features
Facebook has a matrix organizational structure. The key characteristics of this structure address the company's organizational needs, especially the need for creativity and innovation. The following main features of Facebook's corporate structure are notable:
Corporate Function-Based Teams
Geographic Divisions
Product-Based Divisions
Corporate Function-Based Teams. Facebook Inc. maintains corporate teams based on their business functions in managing operational activities throughout the organizational structure. This structural characteristic is based on the various needs of the online social media business. For example, the company needs technology research and development. Because of the matrix corporate structure, some function-based teams have blurred boundaries with geographic and product-based divisions in the company. A senior manager or executive heads each team. The following are the main corporate function-based teams in Facebook's organizational structure:
Chief Executive
Finance
Operations
Information
Technology
Accounting
Privacy
Security
Marketing
Legal
Business & Marketing
Global Public Policy
Investor Relations
Product Management
Human Resources
Geographic Divisions. Regional divisions are another major feature of Facebook's corporate structure. Geographic location is a determinant of this structural characteristic. The company uses these divisions in light of the differences in social networking and online advertising market dynamics. This organizational structural characteristic addresses differences among the behaviors of people and advertisers in using Facebook Inc.'s social networking website and apps. For example, Latin American advertisers tend to use the company's social media services differently, compared to European advertisers. Human resources are also managed regionally. Geographic factors are included in strategic management to address the external factors in the remote or macro-environment of the business, as shown in the PESTEL/PESTLE analysis of Facebook Inc. Because of the company's matrix structure, some of these geographic divisions share resources and managers with function-based teams. The intersections between geographic divisions and function-based teams determine many aspects of Facebook Inc.'s operations management strategy and productivity measures. Even with these geographic divisions in its corporate structure, the company does not have senior corporate executive teams for each and every region. Instead, regional management teams are used. Facebook Inc.'s organizational structure includes the following geographic divisions:
North America
Latin America
Europe, Middle East & Africa
Asia & South Pacific
Product-Based Divisions. Facebook Inc. employs product-based divisions in its organizational structure. This structural feature involves corporate or global teams that manage operations pertaining to specific products. Such global or corporate scope is a consequence of the digital and online nature of the social media business. While most of the company's operations are focused on its social networking services, potential expansion and diversification are also considered. For example, the business is headed toward changing or adding more product-based divisions in its corporate structure, as new products or ventures are made. Such changes influence Facebook's marketing mix or 4Ps. Marketing strategies and tactics are based on products and their management. Facebook's organizational structure includes the following product-based divisions:
Family of Apps
New Platforms and Infrastructure
Central Product Services
Facebook's Corporate Structure: Advantages & Disadvantages
The matrix organizational structure provides flexibility to Facebook Inc. and its multinational operations in the social media and online advertising market. This flexibility is a structural advantage that enables the company to easily respond to market changes and trends. Another advantage of this corporate structure is significant corporate control. For example, corporate function-based teams are a characteristic that allows Facebook Inc. to maintain control and direction on its operations worldwide. Moreover, the product-based divisions support creativity and innovation in product development.
Despite its advantages, Facebook Inc.'s organizational structure has the disadvantage of possible difficulty in implementing directives throughout the corporate structure. This difficulty is due to variations in regional management initiatives, based on the company's geographical divisions. Still, these divisions are necessary to ensure that the business satisfies sociocultural and political variations among countries and regions.
References
Ashkenas, R., Ulrich, D., Jick, T., & Kerr, S. (2015). The boundaryless organization: Breaking the chains of organizational structure. John Wiley & Sons.
Sakhartov, A. V. (2016). Selecting Corporate Structure for Diversified Firms. In Academy of Management Proceedings (Vol. 2016, No. 1, p. 11521). Briarcliff Manor, NY 10510: Academy of Management.
Withey, M. J., & Gellatly, I. R. (2015, January). Organizational Structure, Situation Strength and Employee Commitment: Test of a Process Model. In Academy of Management Proceedings (Vol. 2015, No. 1, p. 14587). Academy of Management.
Zaks, Y., & Tsanakas, A. (2014). Optimal capital allocation in a hierarchical corporate structure. Insurance: Mathematics and Economics, 56, 48-55.