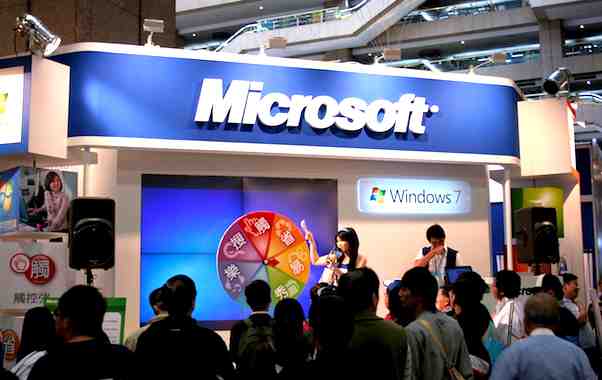 Microsoft Corporation's marketing mix is a showcase of how rapid innovation combines with effective approaches to maintain a strong share of the market. An organization's marketing mix or 4Ps (Product, Place, Promotion & Price) determines the strategies and tactics for implementing a marketing plan. In this case, Microsoft uses online technology and technological measures to protect digital products. As a major competitor in the computer hardware and software market, the company enjoys high revenues. However, competitive rivalry and related issues, as shown in Microsoft's Five Forces analysis, threatens such market position. To ensure continued success in the global market, Microsoft must match its marketing mix with the characteristics of target markets worldwide.
An effective marketing mix (4Ps) enables Microsoft Corporation to maximize its sales revenues. However, an evolving marketing mix is necessary to maintain the company's position in the computer hardware and software market.
Microsoft's Products (Product Mix)
Microsoft started as a software developer. However, the business has since grown to include an increasing variety of products, as shown in this element of the marketing mix. Microsoft categorizes its products, also known as the product mix, as follows:
Devices
Software
Apps
Games
Entertainment
Cloud and other online services
Microsoft's devices include hardware products, such as personal computers, tablets, and the Xbox. On the other hand, the company puts systems software or basic software under the Software category. For example, such software products include Microsoft 365 and Windows OS. In the Apps product line are other free and proprietary software products from the company, as well as from third parties. For example, these apps include Remote Desktop (from Microsoft Corporation) and the proprietary Drawboard PDF (from Drawboard). The company keeps a percentage of all revenues generated through sales of third-party apps on Microsoft online stores. The Games product line covers the Xbox games, Windows games, and related gaming software. In the Entertainment category, the company also keeps a percentage of all movies sold through its website. Cloud-based and other online services include Azure and online storage solutions. This element of Microsoft's marketing mix reflects the increasing diversification of the company's products. Such a condition is connected to Microsoft's generic competitive strategy and intensive growth strategies, which emphasize growth by penetrating markets and providing attractive products.
Place/Distribution in Microsoft's Marketing Mix
Microsoft Corporation needs to maximize its reach in the computer hardware and software market. In this element of the marketing mix, the locations or places for transacting with customers are considered. In the case of Microsoft, the following venues or places are used to distribute products:
Official website
Authorized sellers
Microsoft Stores
Customers can access, purchase or download software products through Microsoft's official website and online store. At present, this online place is a major avenue for the company's revenues. In addition, the firm's authorized sellers provide a direct approach to sales and marketing. These sellers, typically located in strategic commercial areas around the world, enable the company to reach target markets. On the other hand, Microsoft Stores are physical retail stores where customers can access a variety of the company's products, such as smartphones and Xbox units. These stores, although limited in number, are another direct approach to marketing, enabling the company to enhance its brand image and improve customer experience. This element of the marketing mix shows an expanding reach in the global computer hardware and software market, thereby supporting efforts to capture every person as a customer, as highlighted in Microsoft's mission statement and vision statement.
Microsoft's Promotion (Promotional Mix)
Microsoft's concern in this element of the marketing mix focuses on effective communication strategies and tactics used to attract target customers. Considering the conditions of the computer hardware and software market, the strategies and tactics in Microsoft's promotional mix are prioritized as follows:
Advertising (most significant)
Sales promotions
Direct marketing
Personal selling
Public relations
Microsoft's biggest promotion expense is on advertising, which enhances the company's corporate image. In sales promotions, the firm uses discounts and other incentives to attract customers. For example, students can purchase the company's products at discounted prices. On the other hand, the company uses direct marketing for sales deals with organizations, such as academic institutions. In personal selling, Microsoft Store sales personnel present products and their features to potential buyers. While the discounts also function as a public relations tactic, the company's main public relations strategy is implemented through Microsoft grants, charity, and discounted solutions, such as for nonprofits. Donations and related activities are executed through this philanthropic arm. For example, the company donates computer hardware and software products to nonprofit organizations and provides financial support for programs that help at-risk youth. In this element of Microsoft's marketing mix, advertising is the most important determinant of the company's effectiveness in communicating with the target market. The other strategies and tactics satisfy stakeholders according to Microsoft's corporate social responsibility and stakeholder management programs.
Prices & Pricing Strategy in Microsoft's 4P
Price points affect the attractiveness and sales performance of Microsoft's products. The company must apply suitable pricing approaches to ensure effectiveness in addressing concerns in this element of the marketing mix. Microsoft uses the following pricing strategies:
Market-oriented pricing strategy
Freemium pricing strategy
Buy Only What You Use pricing strategy
In the market-oriented pricing strategy, Microsoft sets the prices of many of its products, based on market factors, such as competitors' pricing and consumer demand. The company also uses the freemium pricing strategy, which involves offering a product for free, and requiring payment for additional functionality or features. For example, the Microsoft 365 cloud productivity suite is free to use on devices with a maximum screen size of 10 inches. Payment is required to use the suite on larger devices. This pricing strategy is advantageous because it allows customers to try Microsoft 365 free of charge, enabling the company to show the benefits of using the products in the suite. Moreover, Microsoft applies the "buy only what you use" pricing strategy for cloud services. This strategy involves fees based on how much the customer actually uses, instead of fees per device. The advantage of this pricing strategy is its ability to attract customers concerned about extra charges in using multiple computing devices. Thus, this element of the marketing mix shows that Microsoft has been reforming its pricing strategies to address changes in the computer hardware and software market, especially amid competition with other technology firms.
References
De Ruyter, K., Keeling, D. I., Plangger, K., Montecchi, M., Scott, M. L., & Dahl, D. W. (2022). Reimagining marketing strategy: Driving the debate on grand challenges. Journal of the Academy of Marketing Science, 50(1), 13-21.
Kucuk, S. U. (2023). Digital Marketing Mix Modeling and Coordination. In Visualizing Marketing: From Abstract to Intuitive (pp. 273-291). Cham: Springer International Publishing.
Mir-Bernal, P., & Sadaba, T. (2022). The ultimate theory of the marketing mix: A proposal for marketers and managers. International Journal of Entrepreneurship, 28, 1-22.
Reddy, T. N., Ghouse, S. M., & JS, R. K. (2023). Marketing Mix – Review of P. Research Journal of Humanities and Social Sciences, 14(1), 55-58.