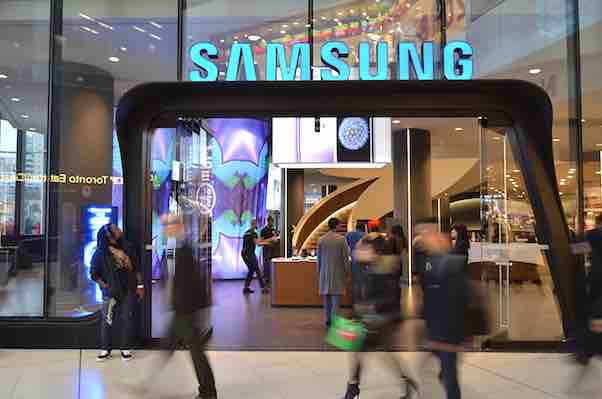 Samsung's organizational culture (work culture) focuses on achieving a high degree of technological innovation involving human resource development strategies. In theory, the company's organizational culture involves the customs, core values, and traditions applied to and expected in the behaviors of employees in the corporation's divisions and regional offices for consumer electronics, device solutions, and IT and mobile communications markets. Samsung's organizational culture intersects with all areas of the conglomerate. This intersection indicates the significance of corporate cultural characteristics in achieving long-term business success in the technology company's various endeavors. For example, the success of Samsung's corporate social responsibility strategy depends on human resource support, which is under the influence of the company culture. Also, the corporation's cultural characteristics affect business competitiveness against other technology firms, like Apple, Google (Alphabet), Microsoft, Sony, Intel, and Dell. Samsung's strategic management and leadership efforts include considerations on how to wield the corporate culture to improve the company's competitive advantages.
Samsung's organizational culture is essentially the same as the corporate culture of its subsidiaries, like Samsung Electronics, considering that human resources determine the outcomes of product innovation, strategic planning and implementation, customer relationship management, and other business aspects. The work culture's influence relates to the brand image and customer relations observable in the strategies and tactics applied in Samsung's marketing mix (4Ps).
Samsung's Organizational Culture Type & Traits
Samsung has an innovation-centered organizational culture. This corporate culture is part of an organizational design that emphasizes employees' knowledge, skills, and abilities for innovating the company's technology products, such as smartphones and laptops. In this regard, the organizational cultural characteristics support Samsung's mission statement and vision statement, which focus on superior products that improve life and society. Thus, this business culture embodies long-term strategic objectives for keeping the company's competitive position as one of the dominant firms in the multinational markets for semiconductors, consumer electronics, and related technologies. Based on the enterprise's core values, the following are the main characteristics of Samsung's organizational culture:
Development of opportunities for all employees
Passion for excellence
Constant change
Ethical foundation for integrity
Emphasis on prosperity for all
Development of Opportunities for All Employees. Human resource development is understandably an underlying strategic objective linked to Samsung's corporate culture. For example, the company ensures career development opportunities not just through institutionalized programs, but also by encouraging employees to support each other toward achieving their career goals within the technology business organization. These opportunities are also supported through Samsung's organizational structure (corporate structure), which facilitates human resource development while pushing for innovation in business operations. The innovation-centeredness of the organizational culture helps grow the business and create opportunities for employees' career development in the process.
Passion for Excellence. Samsung's organizational culture motivates workers to achieve excellence in their job performance. The corporation directs human resource attention toward organizational development and maintaining a brand image of excellence and technological superiority. This cultural characteristic helps in the implementation of Samsung's generic competitive strategy and intensive growth strategies for expanding the business organization through innovative consumer electronics and semiconductors. Passion for excellence makes the corporate culture innovation-centered through the application of such passion in designing and innovating advanced technologies to satisfy international market demand.
Constant Change. Through its corporate culture, Samsung facilitates change that benefits the business. This characteristic of the organizational culture puts innovation at the center, based on the recognition that change is essential when it comes to technological innovation. For example, Samsung's employees embody values, beliefs, and a philosophy that change is necessary to improve the company's consumer electronics and related products and ensure long-term competitive advantages against other firms, which also embrace the need for change in goals for innovation. In this way, the organizational culture facilitates technological innovation at the core of Samsung's business and its strategies.
Ethical Foundation for Integrity. Ethics and related concerns are integrated into Samsung's corporate culture. The corporation's leaders understand that ethics in business operations help minimize problems and optimize the technology firm's brand image and competitiveness. Based on Samsung's ethical standards, the organizational culture promotes fairness, respect, and transparency, which are business ethics trends observable in the global market. In supporting innovation-centeredness, this cultural characteristic guides decisions to ensure that ethical frameworks are considered, leading to outcomes that satisfy the company's strategic objectives, while also optimizing corporate image and the related satisfaction of stakeholders.
Emphasis on Prosperity for All. Samsung extends its corporate culture's influence beyond its organization and workforce. The corporation develops its human resources to support the technology business and to help communities and other stakeholders. For example, the company's organizational culture motivates its workers to participate in corporate citizenship programs that give career opportunities for others and solve communities' problems via technology. This cultural characteristic is innovation-centered because it motivates employees to think of ways to use Samsung's technologies and technological products to help various stakeholders.
Samsung's Corporate Culture: Advantages & Challenges
Advantages. From a business operations and strategic management perspective, Samsung's organizational culture has the advantage of supporting long-term strategic goals involving technological innovation, which is a factor in the company's competitiveness in the consumer electronics, semiconductors, and mobile communications markets. Another advantage of the corporate culture is its influence on career development and related human resource management programs, which directly affect the technology conglomerate's financial performance. These organizational culture advantages support maximizing the benefits of the business strengths identified in the SWOT analysis of Samsung.
Challenges. Samsung's organizational culture brings strategic management challenges in achieving culture-based objectives. For example, the company culture's ethics aspect requires effective monitoring and control to determine human resource inadequacies in this regard. Also, Samsung faces the challenge of ensuring prosperity for all and opportunity for all employees. In maintaining its organizational culture, the technology conglomerate may encounter barriers to developing a work environment where all employees' career development goals are considered in an equitable manner.
References
Ng, K. Y. N. (2023). Effects of organizational culture, affective commitment and trust on knowledge-sharing tendency. Journal of Knowledge Management, 27(4), 1140-1164.
Shamsudin, S., & Velmurugan, V. P. (2023). A study on the drivers of corporate culture impacting employee performance in IT industry. International Journal of Professional Business Review, 8(2), 13.