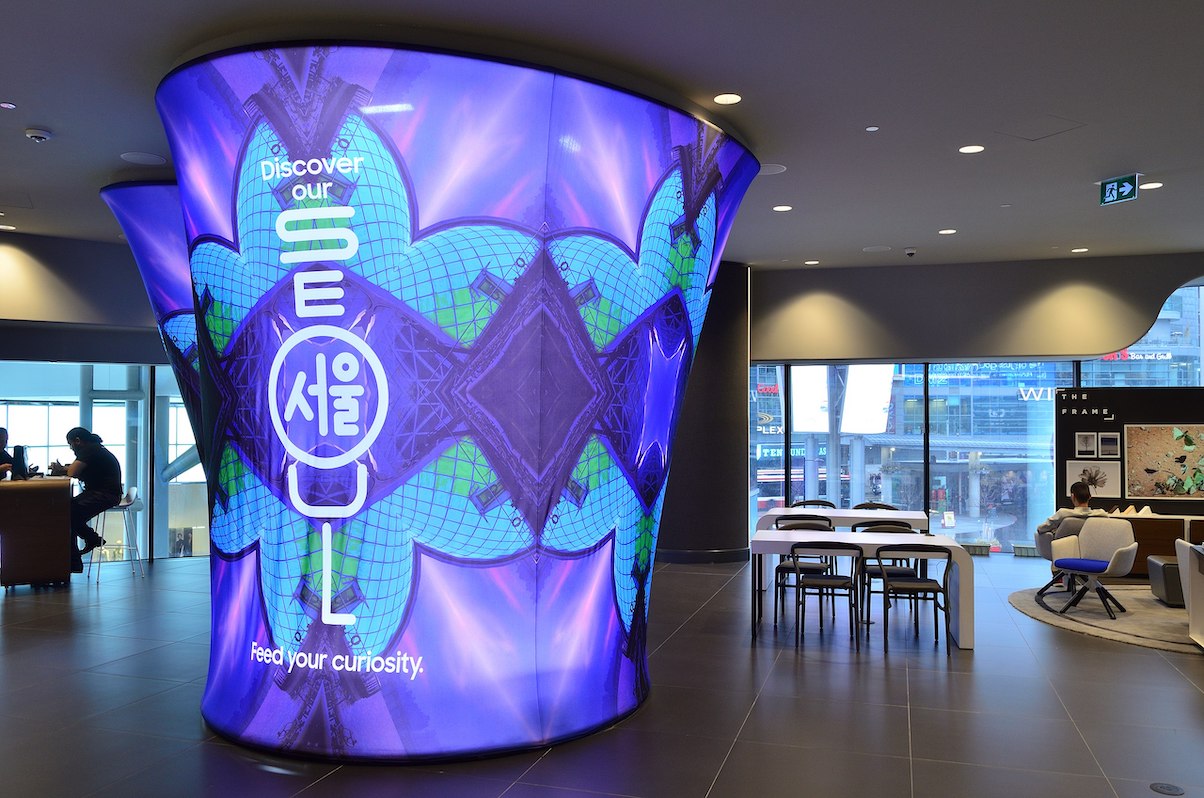 Samsung has a multi-pronged corporate social responsibility (CSR) strategy. This strategy puts emphasis on the empowerment of people to address issues related to the company and its technological products. Other factors, such as business ethics, green operations, sustainability, and ecological impact, are included in the corporate citizenship initiatives and related strategic planning processes of the consumer electronics business. Samsung's generic competitive strategy and intensive growth strategies align with corporate social responsibility programs to achieve business growth while managing stakeholder interests and fulfilling business goals for governance and corporate citizenship.
Multiple factors influence corporate citizenship, including Samsung's organizational structure or corporate structure, which determines the business activities and resources available for sustaining corporate social responsibility programs. Competition in information technology, consumer electronics, artificial intelligence, automation, IoT, and digital content streaming markets also affects the CSR and business ethics initiatives. Competitors, such as Apple, Google (Alphabet), Microsoft, Intel, and Sony, have notable corporate citizenship programs. Samsung needs to ensure that its corporate social responsibility strategy is abreast of other companies' CSR approaches for stakeholder management.
Samsung's Approach to Corporate Social Responsibility
Samsung is a global player in addressing corporate citizenship issues linked to its industries and markets. The company's CSR approach, "Together for Tomorrow! Enabling People," accounts for the effects of products, such as smartphones and other electronic devices, on people and the planet. The following factors are the focus of Samsung's corporate social responsibility strategy:
Education to empower people for a better future
Sustainability through zero emissions and energy-efficient and resource-efficient products
Innovative technologies for the planet
Charity and community support
Samsung's corporate social responsibility strategy uses education to develop future innovators for a better world. For example, the company has education programs for developing water treatment solutions and food waste disposal systems. The Samsung Solve for Tomorrow contest encourages students to develop solutions to community problems. Also, the Samsung Innovation Campus collaborates with universities to help students develop IT or digital skills. These corporate citizenship efforts aim for enhancing human capital for a sustainable world involving high-quality technologies. Samsung's work culture or organizational culture points to global prosperity and aligns with this corporate social responsibility strategy.
Sustainability is one of the goals of Samsung's stakeholder management and corporate citizenship approach. The company aims for zero emissions to address ecological challenges linked to its technology business. Moreover, the smartphone maker's corporate social responsibility strategy highlights energy-efficient and resource-efficient products for business sustainability, along with sustainability in customers' lives. This emphasis on sustainable business and green products reflects Samsung's corporate mission statement and corporate vision statement, which account for innovative technologies for a better global society. Technology is a determinant of the success of the company's corporate social responsibility strategy and programs.
Technology is further emphasized in Samsung's CSR objective of making the planet better. For example, the company considers carbon capture and clean air technologies to benefit the environment. Based on the SWOT analysis of Samsung, the business has strengths and capabilities for success in this objective of the corporate social responsibility strategy. This technological approach to corporate citizenship also relates to the technological aspect of the mission and vision statements of the Korean company.
Other programs and initiatives, such as the Samsung Gives Charity Gala and employee giving programs involving non-profit organizations, are included in the company's corporate social responsibility approach. These programs and initiatives complete the information technology company's corporate citizenship, which addresses stakeholders' interests regarding human development, sustainability, the environment, and community development.
Impact of Samsung's Corporate Citizenship on Stakeholders
Samsung's corporate citizenship meets stakeholder interests and the trends based on these interests. External analyses of the consumer electronics business provide insights into such trends reflecting stakeholders' concerns. The stakeholders addressed in Samsung's corporate social responsibility strategy are as follows:
Employees and customers
Communities and organizations
The natural environment
Samsung's employees and customers are stakeholders whose interests include skills development and a satisfactory quality of life. The consumer electronics company's corporate social responsibility strategy addresses these interests through education to develop people's skills for better opportunities, and through charity involvement to uplift people's sense of achievement. This part of the corporate citizenship approach improves relations with customers and boosts the effectiveness of Samsung's marketing mix or 4Ps. For example, CSR support improves customers' perception about the business and its marketing strategies for products, such as Galaxy devices.
Samsung also addresses its corporate social responsibility to communities and organizations. These stakeholders are interested in the benefits of the company's operations, consumer electronics, and online services to localities and group advocacies. The education, charity, and community development programs of the Korean company address these corporate social responsibilities. For example, corporate citizenship programs for digital skills education improve communities' human capital and development. Charity work and collaboration with non-profit organizations contribute to communities and add to Samsung's effectiveness in fulfilling its corporate social responsibilities.
The natural environment is a stakeholder in Samsung's business operations, although e-waste management and environmental protection and conservation are also among communities' interests. This part of stakeholder management relates to ethical responsibilities beyond information technology and consumer electronics, based on Archie B. Carroll's description of corporate social responsibilities. Samsung addresses ecological concerns through energy efficiency and resource efficiency for business sustainability. The company's corporate citizenship also involves technological innovation to solve ecological problems, such as air quality issues.
References
Fatima, T., & Elbanna, S. (2023). Corporate social responsibility (CSR) implementation: A review and a research agenda towards an integrative framework. Journal of Business Ethics, 183(1), 105-121.
Hristov, I., & Appolloni, A. (2022). Stakeholders' engagement in the business strategy as a key driver to increase companies' performance: Evidence from managerial and stakeholders' practices. Business Strategy and the Environment, 31(4), 1488-1503.
Jahan, S. A., & Sazu, M. H. (2023). Role of IoTs and analytics in efficient sustainable manufacturing of consumer electronics. International Journal of Computing Sciences Research, 7, 1337-1350.
Park, J. G., Park, K., Noh, H., & Kim, Y. G. (2023). Characterization of CSR, ESG, and corporate citizenship through a text mining-based review of literature. Sustainability, 15(5), 3892.
United States Department of Commerce – International Trade Administration – Software and Information Technology Industry.