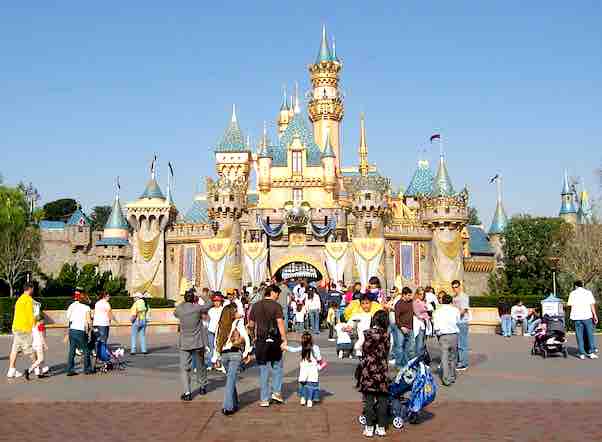 The Walt Disney Company's international popularity is a result of effective strategic management that applies a mission statement and a vision statement suited to the entertainment, amusement park, and mass media industries. In theory, the corporate mission determines what the business organization does. On the other hand, the corporate vision sets the direction of growth and development, pertaining to a desired future condition of the business. This business analysis case of The Walt Disney Company involves a mission statement that focuses on industry leadership. Similarly, the entertainment and media company's vision statement specifies leadership for the business. However, as in the case of many other companies, Disney can improve its corporate vision and mission statements to suit the needs of the business, and to address current trends affecting the industry. For example, adding more detail to the corporate mission statement and corporate vision statement can better guide strategic management for expanding Disneyland and other parks and resorts. Such improvements can open new opportunities for the corporation's development in entertainment, media, and beyond.
With its corporate mission and vision statements, Disney pushes for high performance and leadership in its industries. In direct-to-consumer media streaming, for example, adopting the corporate vision and mission statements requires strategies that make business operations competitive against other streaming service companies. As The Walt Disney Company develops new products, its competitive landscape becomes increasingly complex and creates new challenges to fulfilling the corporate mission and vision statements. For instance, after establishing its streaming service, the company now directly competes with other firms that offer on-demand digital content streaming, such as Netflix, Amazon, HBO, and Apple, in addition to competitors like Sony and Universal Studios (Comcast). The strategic factors related to Disney's business diversification necessitate that the existing corporate vision and mission statements align with challenges in diversification. These statements are evaluated herein in terms of conventions on writing ideal corporate mission statements and corporate vision statements, with consideration for Disney's business complexity and expected future developments.
Disney's Corporate Mission Statement
The Walt Disney Company's corporate mission is "to entertain, inform and inspire people around the globe through the power of unparalleled storytelling, reflecting the iconic brands, creative minds and innovative technologies that make ours the world's premier entertainment company." This mission statement describes the main aspects of Disney's business, as follows:
Entertainment, information, inspiration
Global market reach
Unparalleled and premier status
Storytelling, branding, creativity, and innovative technologies
The first aspect of the corporate mission statement defines the kinds of activities in Disney's business operations. The company provides entertainment (e.g., Disney amusement/theme parks and resorts, Pixar movies), information (e.g., National Geographic documentaries), and inspiration (e.g., inspiring individuals and events through ESPN and other programs). This aspect influences Disney's marketing mix or 4Ps, particularly its product mix. The mission statement also specifies that the company targets the global market for entertainment and information products. In addition, the unparalleled and premier status stated in the corporate mission refers to world leadership, which affects the formulation of The Walt Disney Company's generic competitive strategy and intensive growth strategies. On the other hand, the fourth aspect pertains to the processes used to create and deliver value to customers, such as storytelling to deliver a rewarding entertainment experience. This aspect of the corporate mission statement helps define Disney's corporate organizational structure in terms of business functional grouping. These factors of the corporate mission statement are also reflected in the company's vision statement's specification on entertainment and information.
Disney's Corporate Vision Statement
The Walt Disney Company's corporate vision is "to be one of the world's leading producers and providers of entertainment and information." This vision statement shows industry leadership as a target for strategic management, and provides an overview of the nature of the business. Disney's corporate vision statement has the following main factors:
World market
Leadership as a producer and provider
Entertainment and information
This corporate vision statement's first factor is a specification of the entertainment company's global market scope. On the other hand, similar to the corporate mission statement, the second factor of the vision statement shows that The Walt Disney Company focuses on being a top player in the global market for amusement parks, entertainment, and mass media products. Attainment of this goal requires effective competitive advantages and management to address the level of competition determined in the Porter's Five Forces analysis of Disney. The company needs to strategically develop competitive products that suit new trends in the media industry. In addition, the third factor of the corporate vision focuses on the types of business outputs, such as entertainment products like movies and TV series. Therefore, Disney's corporate vision statement is a reflection of the corporate mission statement.
Summary & Recommendations – The Walt Disney Company's Corporate Mission & Corporate Vision
Corporate Mission Statement. This company analysis case of Disney shows that the business is focused on achieving a leading position in its international industries. The corporate mission contains sufficient information to guide the media and entertainment company's management and strategies in the aspects of product development, organizational structure, and marketing. The specificity of this corporate mission statement helps in boosting the business advantages and strengths shown in the SWOT analysis of The Walt Disney Company, to address competition against Sony, Universal Studios, and other firms. With its alignment with the corporate vision statement, the current corporate mission can be used as an effective tool to guide strategic decision-making processes among the managers of the media and entertainment business. Nonetheless, a relevant recommendation is to improve the mission statement by adding portions pertaining to such business aspects as Disney's human resources and its connection to storytelling, branding, and innovative technologies.
Corporate Vision Statement. The Walt Disney Company's vision statement complements the mission statement. The corporate vision is future-oriented and clear in terms of the media company's strategic aspirations. For example, Disney aims for leadership in the global market for entertainment products. These characteristics of the vision satisfy some of the conventions in writing corporate vision statements, and helps focus Disney's managerial endeavors. However, this vision statement does not specify the kind of "information" that the company provides. Thus, to improve this corporate vision statement, it is recommended that The Walt Disney Company include a more specific description of the "information" that it aims to provide as one of the leading businesses in the global industry.
References
Fauzi, T., Santosa, P., Purwanti, Y., & Nurhayati, N. I. D. N. (2021). The effect of internal elements of strategic management of organizational structure, management role and employee behavior on corporate mission. Management Science Letters, 11(4), 1189-1196.
Kirkpatrick, S. A. (2016). Build a better vision statement: Extending research with practical advice. Rowman & Littlefield.
Kirkpatrick, S. A. (2016). Toward a grounded theory: A qualitative study of vision statement development. In Academy of Management Proceedings (Vol. 2016, No. 1, p. 10225). Academy of Management.
Martinčić, S. G. (2018). Identification of the elements for the creation of corporate vision. International Journal Vallis Aurea, 4(1), 49-58.
Pace, S. (2017). Shaping corporate brands: From product features to corporate mission. International Studies of Management & Organization, 47(2), 197-205.
Salehi-Kordabadi, S., Karimi, S., & Qorbani-Azar, M. (2020). The relationship between mission statement and firms' performance. International Journal of Advanced Studies in Humanities and Social Science, 9(1), 21-36.
Sidibe, M. (2020). Brands on a mission: How to achieve social impact and business growth through purpose. Routledge.
Suranga, J. M. (2017, March). Importance of corporate vision. In Proceedings of International HR Conference (Vol. 1, No. 1), 34-40.
Toh, S. Y., Tehseen, S., Mahmoud, A. B., Cheok, J., Grigoriou, N., & Opute, J. (2022). Mission statement effectiveness: Investigating managers' sensemaking role. Corporate Communications: An International Journal, 27(2), 329-345.
United States Department of Commerce – International Trade Administration – Media and Entertainment Industry.