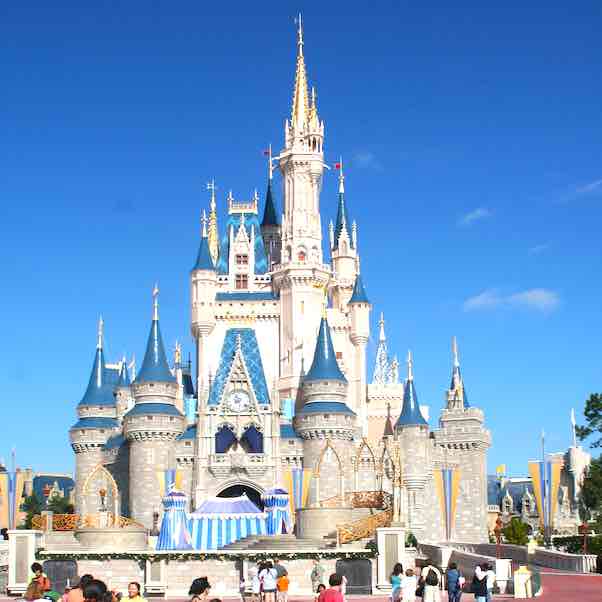 The Walt Disney Company's corporate social responsibility strategy supports and manages the expectations of stakeholders in the mass media, entertainment, theme parks and resorts, consumer goods, and retail conglomerate. The company's CSR and ESG strategy benefits the natural environment and supports solutions to community and societal issues. Disney's corporate citizenship goals are interlinked with the strategic objectives of the company's businesses. For example, environmental impact policies ensure business sustainability for stakeholder interests, while supporting Disneyland operations in terms of maintaining the amusement parks and resorts' greenery and natural balance. These corporate responsibility efforts support the market-effectiveness of Disney's generic competitive strategy and intensive growth strategies. This multifaceted CSR approach helps the company compete with cruise lines, the media and entertainment operations of Sony and Comcast (parent company of Universal Studios), and the video streaming operations of Netflix, Google's YouTube, Apple TV Plus, Facebook (Meta), and Amazon Prime Video. Disney's corporate social responsibility strategy, initiatives, and programs are part of an overall strategic positioning that benefits the entire organization, including subsidiaries, like Marvel Studios and Pixar Animation Studios.
The Walt Disney Company successfully addresses and manages stakeholders' demands. The company's overarching approach to corporate citizenship and environment, social, and governance (ESG) issues is holistic in satisfying stakeholders' interests and the operational effectiveness and financial objectives of the business. This corporate social responsibility strategy ensures an ethical Disney that profits from providing valuable entertainment products and experiences to customers around the world.
Components of Disney's Corporate Social Responsibility Strategy
Disney groups its corporate social responsibility efforts into two: Environment and Philanthropy. These CSR groups address two main concerns of the media and entertainment company's stakeholders: environmental impact and community impact. Thus, in general, Disney's corporate citizenship is two-pronged. However, an examination of the specific programs and initiatives contained in the CSR strategy shows that the company's approach is multi-faceted and holistic in considering the conglomerate's operations and stakeholders. The main components of The Walt Disney Company's corporate social responsibility strategy are:
Environmental Stewardship (Environment)
Conservation Fund (Environment)
Charitable Giving (Philanthropy)
Volunteering (Philanthropy)
Environmental Stewardship. This component of Disney's corporate citizenship efforts addresses stakeholders' interests about the environmental impact of the company's business operations. For example, as part of this corporate social responsibility component, some of the main strategic objectives are waste diversion, emission reduction, and water conservation. Waste diversion programs aim to reuse and recycle materials from Disney's operations, such as in amusement parks and resorts, to reduce the amount of waste sent to landfills. Thus, environmental stewardship makes the corporate social responsibility strategy enhance the sustainability and greening of the global business, with the natural environment as a stakeholder in business ethics considerations in strategic management and Disney's operations management.
Conservation Fund. Disney's Conservation Fund extends corporate social responsibility initiatives to stakeholders and parties that are not necessarily directly impacted by the media and entertainment, parks and resorts, and consumer goods and retail business. This CSR strategy component involves programs for saving wildlife, protecting the planet, and facilitating community involvement. For example, through its Conservation Fund, the media and entertainment conglomerate financially supports and cooperates with conservation organizations for the purpose of improving the populations of endangered or at-risk species. In addition, The Walt Disney Company has corporate citizenship programs that encourage and enable communities to participate in greening and sustainability activities via nonprofit organizations. The corporation also promotes environmental conservation literacy in this manner, along with related literacy programs included in its theme parks and resorts operations. This component of the corporate social responsibility strategy expresses Disney's interest in managing and satisfying the interests of communities as stakeholders in the multinational business.
Charitable Giving. In the philanthropic thrust of its corporate citizenship strategy, Disney engages in charity work as part of efforts to fulfill its corporate social responsibilities. For example, funds and materials are provided for scholarships and to nonprofits for a variety of purposes, thereby helping support individuals and communities, while also drawing potential customers to the company's amusement parks, resorts, movies, and other products. Charitable giving reinforces the strategic strengths identified in the SWOT analysis of Walt Disney. This part of the company's CSR efforts supports the interests of various stakeholders, such as conservationists concerned about the environmental impact of Disneyland operations, as well as community and advocacy groups concerned about the socioeconomic impact of the company as a leader in the entertainment industry.
Volunteering. Disney allocates some of its human resource time to support its corporate social responsibility strategy for solutions to problems of interest to stakeholders. For example, this CSR strategy includes the volunteer action of the company's artists and engineers to support skills development among the youth. The success of volunteering relies on the effectiveness of Disney's organizational culture (work culture) in instilling the right mindset that explores corporate citizenship opportunities beyond business operations. This CSR component facilitates the diffusion of sustainability, business ethics, and other aims to stakeholder groups around the world. Along with charitable giving, volunteering has the added effect of enhancing The Walt Disney Company's marketing mix (4P) effectiveness via public relations.
Disney's CSR Effectiveness: Stakeholders' Interests, Strategies & Recommendations
Disney's corporate citizenship activities address sustainable and green operations, community development, environmental conservation, and other endeavors through environmental programs and philanthropic initiatives. For example, the company's corporate social responsibility programs are designed to satisfy stakeholders' interests regarding the environmental impact of amusement park operations. The ecological issues and trends identified in the PESTEL/PESTLE analysis of Walt Disney are partly dealt with through corporate social responsibility programs and initiatives for solving environmental problems. This CSR strategy manages stakeholders' expectations and, consequently, customers' perception about the media and entertainment, parks and resorts, and consumer goods and retail conglomerate. The successful implementation of the corporate social responsibility strategy contributes to the satisfaction of Disney's mission statement and vision statement by promoting the business to a larger global population of customers and other stakeholders.
References
Siyahhan, B. (2023). Stakeholders and corporate social responsibility: What makes firms tip over to CSR investments? Managerial and Decision Economics, 44(3), 1436-1453.