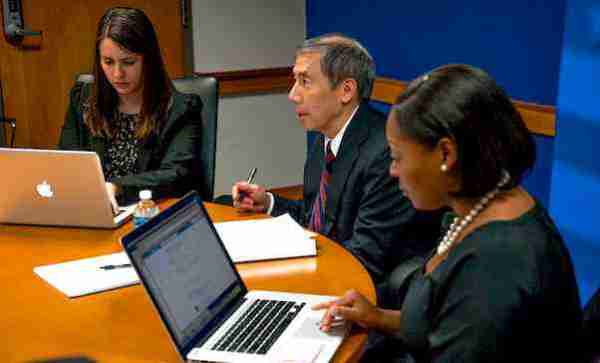 Facebook Inc. has a generic strategy that maintains the company's competitive advantage based on efficiency and ease of access to the company's online social media services. Michael Porter's model for generic competitive strategies indicates the firm's strategic direction for business growth. Facebook's generic strategy ensures growth and competitive advantage through the website's ease of access to capture a bigger share of the market. On the other hand, Facebook's intensive strategies emphasize the use of market penetration as the primary thrust to grow the business. These strategies support and enable Facebook to keep its market position as the world's leading online social networking company.
Facebook's generic competitive strategy (Porter's model) supports the business through operational efficiency and clients' ease of access. Related intensive strategies grow Facebook's market position and revenues by making the social networking website accessible in more regions worldwide.
Facebook's Generic Strategy (Porter's Model)
Facebook Inc. grows its business through the cost leadership generic competitive strategy. This generic strategy involves minimizing costs of doing business. The company also broadly provides its online social media services to the entire global market. This condition is achieved through the mere nature of Facebook's business. For example, the company uses advanced computing technologies to maximize speed and efficiency of its social networking website. The online nature of this business enables Facebook to easily reach individual users across the global market, thereby satisfying the broad competitive scope of the generic strategy.
Based on the cost leadership generic competitive strategy, Facebook has the strategic objective of expanding its revenue base through its online social networking website. A related financial strategic objective is to increase the company's revenues by at least 5% annually. Through this generic strategy for competitive advantage, Facebook has the potential to satisfy these strategic objectives by focusing on growing its membership. At present, more than 1.65 billion individual users actively access and use Facebook's social networking website.
Facebook's Intensive Strategies (Intensive Growth Strategies)
Market Penetration. Facebook currently achieves growth primarily through the market penetration intensive strategy. The objective in this intensive growth strategy is to maximize market share in the company's current markets. For example, as one of its strategic objectives, Facebook increases its share in current markets by establishing alliances with telecommunications companies, so as to increase the number of users who access the company's social media service through the Facebook mobile app. This intensive growth strategy supports the company's generic competitive strategy of cost leadership by maximizing potential revenues and market reach using technology assets available in the business.
Market Development. Market development is the secondary intensive strategy that Facebook uses for business growth. The objective in this intensive growth strategy is to enter new markets. For example, one of Facebook's strategic objectives is to coordinate with governments to allow their citizens to access the online social network. This intensive strategy aligns with Facebook's mission and vision statements, which include growth through global market reach. Such global market reach maximizes effectiveness and efficiency of the business, thereby satisfying the company's cost leadership generic competitive strategy.
Diversification. Facebook Inc. uses diversification as a supporting intensive strategy for growth. The main objective in this intensive growth strategy is to enter new business ventures. For example, Facebook has agreed to purchase the company Oculus VR to offer virtual reality technology that can complement the social networking website's services. Through this intensive growth strategy, Facebook Inc.'s strategic objective is to purchase or establish new subsidiaries or businesses to increase revenues and market reach.
Product Development. Product development is another supporting intensive growth strategy used in Facebook Inc.'s social media business. This intensive strategy has the goal of developing and offering new products as a way of growing the company. For example, as a strategic objective, Facebook Inc. developed its mobile app as a new product to complement the social networking website, which is accessible through web browsers. Through this intensive strategy, new products attract more individual users and advertisers, which are the main source of Facebook's revenues.
References
Dess, G. G., & Davis, P. S. (1984). Porter's (1980) generic strategies as determinants of strategic group membership and organizational performance. Academy of Management Journal, 27(3), 467-488.
Glazer, R. (1999). Competitive Advantage Through Information-Intensive Strategies. Handbook of Services Marketing and Management, 409.
Merchant, H. (2014). Configurations of governance structure, generic strategy, and firm size. Global Strategy Journal, 4(4), 292-309.
Miller, D. (1992). The generic strategy trap. Journal of Business Strategy, 13(1), 37-41.
Parnell, J. A. (1997). New evidence in the generic strategy and business performance debate: A research note. British Journal of Management, 8(2), 175-181.
Varadarajan, P., & Dillon, W. R. (1982). Intensive growth strategies: A closer examination. Journal of Business Research, 10(4), 503-522.