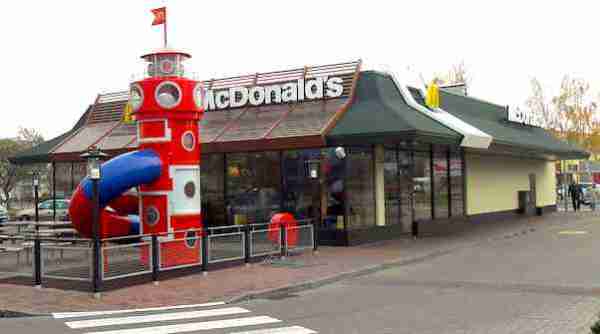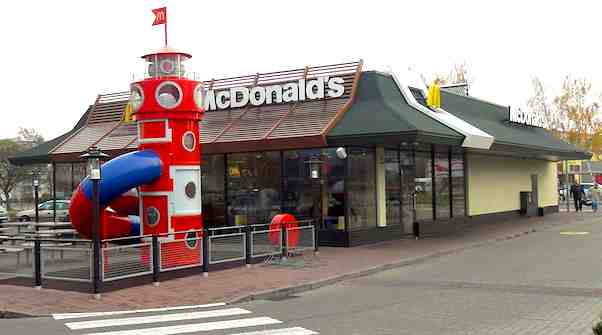 McDonald's marketing mix (4Ps) involves varied approaches that meet business concerns in different markets around the world. The marketing mix defines the strategies and tactics a firm uses to reach target customers. McDonald's has corporate standards that its marketing mix applies globally. The company also uses some variations of its marketing mix to suit the local conditions of markets. For example, McDonald's promotion focuses on print media in countries where such media are most popular. The company's effectiveness in implementing its marketing mix contributes to the leading performance of the McDonald's brand and business in the international fast food restaurant industry.
McDonald's marketing mix facilitates effective reach to the target market. This marketing mix supports the company's leading global industry position, as well as the strength of its brand.
McDonald's Products (Product Mix)
McDonald's provides mainly food and beverage products. This element of the marketing mix covers the various organizational outputs (goods and services) that a company provides to its target customers. McDonald's product mix has the following main product lines:
Hamburgers and sandwiches
Chicken and fish
Salads
Snacks and sides
Beverages
Desserts and shakes
Breakfast/All-day breakfast
McCafé
McDonald's is primarily known for its burgers. However, the company expands its product mix through time. At present, customers can purchase other popular products like chicken and fish, desserts, and breakfast meals. This element of McDonald's marketing mix indicates that the firm innovates new products to attract more customers.
Place/Distribution in McDonald's Marketing Mix
McDonald's restaurants are the most prominent places where the company's products are distributed. This element of the marketing mix indicates the venues or locations where the firm's products are offered. McDonald's main places for distributing its products are as follows:
Restaurants
Kiosks
Postmates website and app
McDonald's mobile app
McDonald's restaurants are where the company generates most of its sales revenues. Some of these restaurants also manage kiosks to sell a limited selection of products, such as desserts. Some kiosks are temporary, as in the cases of kiosks used in seasonal events and professional sports competitions. In addition, customers can place their orders through the Postmates website and mobile app. Moreover, the company's mobile apps for iOS and Android OS let customers claim special deals and find McDonald's restaurant locations. This element of the marketing mix supports McDonald's intensive growth strategies, especially market penetration.
McDonald's Promotion (Promotional Mix)
McDonald's promotes its products to attract more customers. This element of the marketing mix defines the approaches used to communicate with the customers. McDonald's uses the following tactics in its promotional mix:
Advertising
Sales promotions
Public relations
Direct selling
McDonald's advertisements are the most notable among its promotion tactics. The company uses TV, radio, print media and online media for its advertisements. McDonald's also uses sales promotions to draw more customers to its restaurants. For example, the company offers discount coupons and freebies for certain products. In addition, McDonald's public relations activities help promote the business to the target market. For instance, the Ronald McDonald House Charities and the McDonald's Global Best of Green environmental program support communities while boosting the value of the corporate brand. Occasionally, the company uses direct selling, such as for corporate clientele, local government or community events and parties. In this element of its marketing mix, McDonald's emphasizes advertising as its main approach to promote its products.
McDonald's Prices and Pricing Strategy
McDonald's pricing strategy involves price bundling combined with psychological pricing. In price bundling, the company offers meals and other product bundles for a discount. In psychological pricing, McDonald's uses prices that appear to be significantly more affordable, such as $__.99 instead of rounding it off to the nearest dollar. This element of McDonald's marketing mix highlights the importance of price bundling to encourage customers to buy more products.
References
Dominici, G. (2009). From marketing mix to e-marketing mix: a literature overview and classification. International Journal of Business and Management, 4(9), 17-24.
Goi, C. L. (2009). A review of marketing mix: 4Ps or more? International Journal of Marketing Studies, 1(1), 2.
McDonald's Corporation (2015). Food.
McDonald's Corporation (2015). Mobile App.
Rahmani, K., Emamisaleh, K., & Yadegari, R. (2015). Quality Function Deployment and New Product Development with a focus on Marketing Mix 4P model. Asian Journal of Research in Marketing, 4(2), 98-108.
Van Waterschoot, W., & Van den Bulte, C. (1992). The 4P classification of the marketing mix revisited. The Journal of Marketing, 83-93.
Yun-sheng, W. (2001). Perfection and innovation of 4P Marketing Mix – How to evaluate 4P Marketing Mix. Commercial Research, 5, 6.