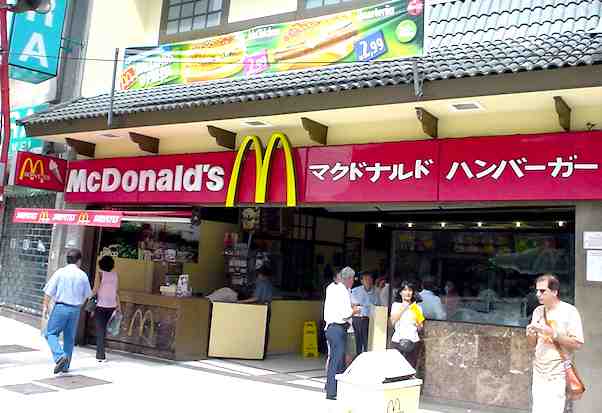 McDonald's Corporation's organizational structure is designed for effective management and efficient handling of the company's global operations. The fast-food firm's organizational or corporate structure defines the organizational design and system through which organizational components coordinate to achieve business objectives. McDonald's corporate structure facilitates operations management in food service markets based on business performance. As the largest fast-food restaurant chain in the world, the company evolves its structural design to address current and emerging market issues. The organizational structure supports new product rollouts that satisfy and attract customers despite competition with other food service businesses, such as Dunkin', Burger King, Starbucks, Subway, and Wendy's. Strategies are implemented through McDonald's organizational structure, which can adapt to a changing business environment. The company adjusts its structural components in response to market dynamics and external forces, such as the opportunities and threats explained in the SWOT analysis of McDonald's Corporation. In this regard, the fast-food company's corporate structure and its features enable operational effectiveness and fiscal stability.
McDonald's organizational structure establishes the arrangement or pattern of interactions among the divisions of the business. The structural characteristics are linked to the restaurant company's strategies. In relation, McDonald's marketing mix or 4P reflects how the corporate structure provides support for market strategies and tactics. In this regard, strategic alignment is essential between the company's organizational structure, business needs, and related strategic efforts for competitive advantages in the food service industry. Through its corporate structure, McDonald's succeeds in managing efficiency and performance in the global operations of the fast-food restaurant chain.
McDonald's Organizational Structure Type and Features
McDonald's Corporation has a divisional organizational structure. In this company structure type, the restaurant business is divided into components that are given responsibilities based on operational requirements. Each division handles an operational area and corresponding strategic objectives linked to McDonald's corporate mission statement and corporate vision statement. One of the aims of the divisional corporate structure is to support autonomy and organizational flexibility in satisfying business needs in different food service markets. McDonald's organizational structure has the following characteristics, which influence the operations of the fast-food restaurant chain business:
Global hierarchy
Performance-based divisions
Function-based groups
Global Hierarchy. McDonald's Corporation has a global hierarchy for all of its operations. This feature of the organizational structure emphasizes corporate control in the context of managerial control and direction of the restaurant chain. For example, McDonald's CEO directs and guides the activities of all business areas through this structural characteristic. Through the corporate structure, strategic directives and guidelines are passed down from the CEO to middle managers, and eventually to the restaurant managers and personnel in company-owned locations and among franchisees and licensees. In this context, the structural design facilitates top-down corporate management. McDonald's operations management directly relates to this feature of the corporate structure, which is typical of many multinational business organizations.
Performance-Based Divisions. Performance-based divisions are among the most distinct features of McDonald's corporate structure. Currently, these divisions represent markets that are grouped according to the fast-food company's business performance. Before its reorganization in 2015, the following geographic divisions were in McDonald's organizational structure:
U.S.
Europe
Asia/Pacific
Middle East and Africa
Other Countries & Corporate (OCC) including Canada, Latin America, and Corporate
After the 2015 reorganization, McDonald's now uses performance as basis for the new divisions in its corporate structure:
U.S.
International Lead Markets
High-Growth Markets
Foundational Markets and Corporate
The United States division generates the biggest regional sales revenues for McDonald's. As such, operations in the U.S. market are considered a single division in the organizational structure, separate from the rest of the restaurant chain's operations. The International Lead Markets division includes the highest-performing groups of restaurant locations outside the United States. This part of McDonald's corporate structure also represents a major chunk of total global revenues. The High-Growth Markets division accounts for a small minority of the fast-food company's revenues. However, this part of the organizational structure addresses markets that have potential for business growth based on rapid food service market development and economic opportunities and related trends, such as the "better burger" movement and others enumerated in the PESTEL/PESTLE analysis of McDonald's Corporation and its external business environment.
Function-Based Groups. McDonald's corporate structure maintains function-based groups. For example, in corporate activities, the company has a People group for human resource management, and a Supply Chain and Sustainability group for supply chain management and sustainability endeavors that partly address McDonald's stakeholders and corporate social responsibility strategies.
Each function-based group in the restaurant chain's organizational structure is under the leadership of a corporate executive or senior manager. These groups enable addressing essential business functions, such as human resource management and the reinforcement of McDonald's Corporation's organizational culture. Thus, this feature of the corporate structure allows the organizational design to address basic activities in the restaurant business. In addition, groups may be added or changed to respond to business growth and target market trends, as well as competitive dynamics, which are discussed in the Porter's Five Forces analysis of McDonald's Corporation, outlining the effects of external actors on the fast-food business organization.
Advantages & Disadvantages of McDonald's Corporate Structure
An advantage of the hierarchy in McDonald's corporate structure is its support for monitoring and control of global operations. The restaurant chain's size presents managerial challenges, which are addressed through such a hierarchy. Also, the performance-based divisions of the organizational structure have the advantage of enabling the fast-food company in implementing strategies that account for market-specific performance and related business indicators. For example, McDonald's applies a set of strategies for all lead markets, and a separate set of strategies for high-growth markets. In this regard, the corporate structure allows the food service business to succeed in strategic implementations despite issues linked to market diversity and organizational size.
A disadvantage of McDonald's organizational structure is that it tends to generalize strategies for all markets and locations that belong to the same performance-based division. For example, similar strategies are applied in high-growth Asian markets and high-growth South American markets, despite the sociocultural differences among these fast-food markets. This corporate structure issue may limit McDonald's business flexibility in responding to market-specific variables. Nonetheless, the restaurant company can improve its organizational structure by adjusting how these performance-based divisions are used in strategic management decision-making processes.
References
Baskici, C., & Ercil, Y. (2018). Corporate structure analysis of organizations from network perspective. Research Journal of Business and Management, 5(3), 231-237.
Gonzalez, R. V. D. (2022). Innovative performance of project teams: The role of organizational structure and knowledge-based dynamic capability. Journal of Knowledge Management, 26(5), 1164-1186.
Mathur, S. (2017). Glocalization in Fast Food Chains: A Case Study of McDonald's. In Strategic Marketing Management and Tactics in the Service Industry (pp. 330-347). IGI Global.
Rahmad, R., Sabri, S., & Nasfi, N. (2021). The influence of organizational structure, leadership and human resource capability on service effectiveness. International Journal of Social and Management Studies, 2(3), 123-131.
Sakhartov, A. V. (2016). Selecting Corporate Structure for Diversified Firms. In Academy of Management Proceedings (Vol. 2016, No. 1, p. 11521). Briarcliff Manor, NY 10510: Academy of Management.
Soderstrom, S. B., & Weber, K. (2020). Organizational structure from interaction: Evidence from corporate sustainability efforts. Administrative Science Quarterly, 65(1), 226-271.