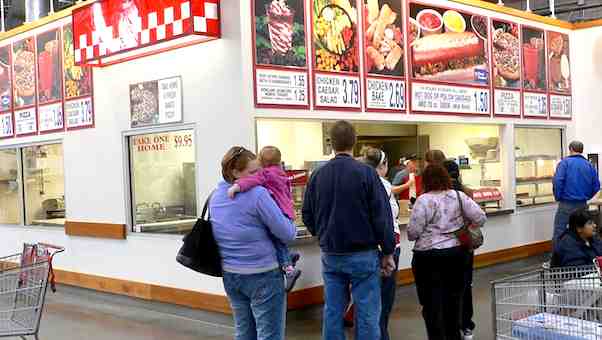 Costco Wholesale Corporation is one of the biggest retailers in the world. Costco's marketing mix (4Ps) is a factor behind this success. The marketing mix is the set of strategies and tactics that a firm uses to implement its marketing strategy and associated marketing plan. In Costco's case, the business has a marketing strategy and marketing mix that are uncommon in the retail industry, especially in terms of promotion. The membership-only retail company's marketing strategy enables competitiveness against Walmart and its division, Sam's Club; Amazon and its subsidiary, Whole Foods; and Target, Home Depot, Kroger, and BJ's Wholesale Club. Despite the aggressive competition shown in the Five Forces analysis of Costco Wholesale, the company's marketing mix maintains loyalty among shoppers looking for value at competitive selling prices.
Costco maintains a marketing mix that capitalizes on pricing and the value of its products. This combination of value and price sets the business apart from other firms in the market and facilitates the competitive advantages illustrated in the SWOT analysis of Costco Wholesale. Thus, the company's marketing strategies, tactics, and campaigns tend to rely on this combination to reach and attract target buyers.
Costco's Products (Product Mix)
As a big-box retailer, Costco Wholesale offers a wide variety of products to match market demand. This element of the marketing mix identifies the firm's outputs. Compared to some large retailers, the company has a limited product mix, but expands its product offerings over time. Costco's product mix includes the following main product categories:
Appliances
Auto & Tires
Baby, Kids & Toys
Clothing & Handbags
Computers & Printers
Electronics
Furniture
Grocery, Floral & Pets
Holiday, Gifts & Tickets
Home Improvement
Health & Beauty
Home, Kitchen, Bed & Bath
Jewelry & Watches
Office Products
Patio & Outdoor
Sports & Fitness
Travel & Luggage
Photo Center services
Optical services
Hearing Aid Center services
Gasoline
Business Services
Home Services
Life Services
In addition to the typical basic goods found in its warehouses/stores, Costco offers services, such as photo printing services, life insurance (under Life Services), and payroll services (under Business Services). This element of the marketing mix shows that Costco Wholesale Corporation has expanded its product mix to a considerable degree of diversification to meet market demand. The evolution of this element of the marketing mix represents product development for growth and competitiveness. Thus, the marketing strategy relates to Costco's generic competitive strategy and intensive growth strategies, in terms of product-focused strategies and marketing campaigns that facilitate business growth and competitive advantages.
Prices and Pricing in Costco's Marketing Strategy
Costco is known for competitive prices, especially for bundled merchandise or goods sold in large amounts. These selling prices are a result of the company's pricing strategies, which dictate price points and price ranges that are lower than the market average for some product lines. In its marketing mix, Costco uses the following pricing strategies:
Market-oriented pricing
High-low pricing
Costco Wholesale uses the market-oriented pricing strategy. This strategy considers market conditions as a basis for setting prices. The company's goal in this component of the marketing mix is to offer the lowest possible prices for bulk/wholesale purchases, relative to the prices of other firms in the retail market. Moreover, Costco's marketing mix involves a modified version of the high-low pricing strategy, which sets high prices for some goods and services, and low prices for others. The marketing strategy objective of high-low pricing is to attract shoppers to the low prices, in the hope that they will also buy the higher-priced products, which generate bigger profits. Still, many of the company's goods are available at discounted prices through bulk or wholesale purchases. Overall, the low prices set in this marketing strategy align with the goals of Costco's mission statement and vision statement, which focus on setting the lowest prices for unmatched savings for customers.
Place/Distribution in Costco's Marketing Mix
Warehouse-style stores are the main places where Costco sells its products. This 4P element refers to the venues through which the retailer distributes or sells its products to customers. In this case, Costco's marketing strategy involves a product distribution strategy with the following places or locations:
Warehouse-style stores
E-commerce website and mobile app
The company's goods and services are available at its warehouse-style stores. However, customers can also purchase products through Costco Wholesale's e-commerce website. Mobile users can use the Costco mobile app to access information about products and to make a purchase. Customers can opt to have their online or mobile purchases delivered to their doorstep. In this element of the marketing mix, Costco Wholesale Corporation harnesses information technology for a wide market reach. In the brick-and-mortar aspect, the locations of the warehouses and other facilities reflect Costco Wholesale's organizational structure, which influences the geographic location of retail operations for the optimal effectiveness of the marketing strategy.
Costco's Promotion (Promotional Mix)
Costco Wholesale promotes its products through four main marketing communications tactics. This element of the marketing mix presents how the firm communicates with its target customers. Costco's main promotion tactics are as follows:
Sales promotion
Direct marketing
Personal selling
Public relations
Costco uses bulk/wholesale discounts as a form of sales promotions to lure consumers to its warehouses/stores. Members are guaranteed low prices for products sold per pack or in wholesale amounts. In addition, Costco uses direct marketing through emails to members, as well as The Costco Connection, which is a publication that promotes products available at the company's stores. On the other hand, personal selling happens when sales personnel persuade shoppers to purchase certain products at the stores. Costco's marketing mix applies public relations to boost the corporate and brand image. For example, the company has sustainability programs for its supply chain, and gives donations to support programs for children, education, and health and human services. These programs for public relations are integrated into Costco's corporate social responsibility strategy, which aims to benefit communities and the environment, while promoting the company and its products to the target market.
The lack of advertising is a major factor that separates Costco's marketing strategy from those of other big-box retailers. The company does not advertise and relies more on its low prices and product value to attract customers and maintain its competitive position in the retail market. This element of the marketing mix shows that Costco Wholesale Corporation effectively promotes its business and products even without advertising.
References
Ahmed, R. R., Streimikiene, D., Qadir, H., & Streimikis, J. (2023). Effect of green marketing mix, green customer value, and attitude on green purchase intention: Evidence from the USA. Environmental Science and Pollution Research, 30(5), 11473-11495.
Rajer, N. (2023). New marketing models for developing a marketing strategy. International Journal of Innovation in Marketing Elements, 3(1), 23-29.